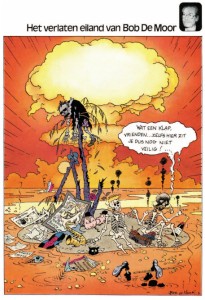 In 1981 several Tintin Journal cartoonists were asked to create a page depicting their ideal deserted island for a special issue on the aspect of deserted islands. The cover for that issue was created by Ernst, with other contributors (next to that of Bob De Moor) offering drawings or cartoons inside. You'll find material by Ploeg, Didier Convard, Christian Gine, Michel Weyland, Jean-Claude Servais, Ferry, Crisse, François Craenhals, Magda, Franz and Bédu.
In the page made by Bob de Moor you see a small isle right after an atomic bomb has exploded (the mushroom sized cloud is still visible in the back of the page). Clearly the isle was also destroyed as all of the characters on the isle are reduced to skeletons. We recognize Julius Henry Marx aka Groucho from the Marx Brothers in the palmtree (or what is left from it), the wig (plus his hat, or is that Cori's?) of Harpo 'Adolph' Marx, Laurel and Hardy buried in the sand, Charlie Chaplin in the sea, Barelli and Bob de Moor himself (with indeed 2 missing fingers on his left hand as was the case in real life). Add to that a black cat (superstitious beliefs n'est-ce pas?) and 2 dead fish.
But also present are a bunch of artifacts: a Jerome Bosch painting (you would expect de Moor to use the normal dutch writing of Jheronimus Bosch though), a vinyl and the saxophone of jazz musician Coleman Hawkins (Bob de Moor being a jazz fan), a page written by novelist annex MI6 spy  Graham Greene, a page by Hugo Pratt, the album "Tintin in the Land of the Soviets"  by Hergé (in dutch this time) and a miniature sailing boat (little known, but de Moor built miniature sailing boats for later use in his Cori albums).
The text balloon says "What a blast was that my friends…. even here it's not safe" indicating that de Moor had assembled his favorite items en persona around him for a quiet stay on a deserted island… with a bottle of champaign.