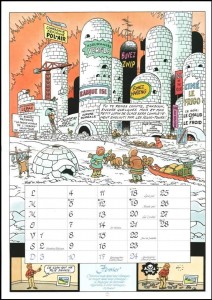 In 1984 Bob de Moor was asked to provide a drawing for the Boy Scouts calendar 1985. 2 projects were started, one with igloos and another one with huge wipers which made the window washers redundant. In the end the choice was made to go for the igloos instead. As you can see the igloos all have publicity on them, but publicity which has one way or another something to do with snow and/or the cold. You will also notice that the background of the towers is similar to the one Bob de Moor also created for the Citroën catalogue which the Studio Hergé delivered in 1985.
We see the following adverts: The airways companie Pol-Air (reference to Polar), Insurance company Vergla (reference to the french word verglas which stands for black ice), Zwip beverages (referring to the onomatopoeia of gliding in the snow), the Hareng tobacco (see herring in English), Cola On The Rocks, Super Gel Market (gel being frost in French), Lepac enterprises (referring to pack ice), the bar Les Glaçons (glaçon being french for ice cream or ice cubes), cinema Le Frigo (frigo being french for refrigerator) with the film "Le chaud et le froid" ("The warm and the cold") plus the bar/restaurant Le Moins Soixante (french for 'the under 60 degrees').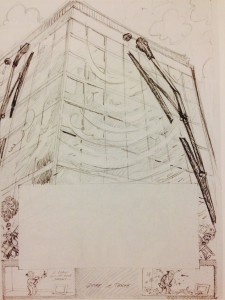 We also see two boards, the one on the right shows the typical traffic sign for end of the motorway but with 2 skis here, and on the left we see a board announcing the arrival of the 'high standard' iglo tower "La partie visible de l'iceberg" ('The visible part of the iceberg').
In the front you will notice 2 inuits discussing with one saying that if it continues like that that within a few months his little iglo will be surrounded by those iglo towers. Below the calendar dates itself you see a 2 case gag in the typical de Moor style. The first case sees the guy explaining that he holds a nail which never bends. In the next case you see that the never bending nail did 'bend' all of his hammers.
In the Bob de Moor. 40 ans de bandes dessinées, 35 ans aux côtés d'Hergé
released in 1986 the picture used was scanned from the physical calendar but had some big shadows in the middle. This new scan was provided to us by Alain Demaret.