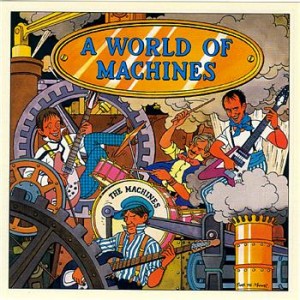 In 1982 the Belgian poppy new wave act The Machines released their debut album "A World Of Machines". The cover artwork was by none else but Bob de Moor, who was actually replacing the late Guy Peelaert (David Bowie has used his artwork on the "Diamond Dogs" album).
According to the band's recently deceased frontman Paul Despiegelaere the band wanted to have a cover that stood out. Some magazines mistook the album for a Beatles bootleg though and pointed out that John, Paul, George and Ringo were not recognizable… The artwork of course showed the band members Paul Despiegelaere, Marc Maes, Joris Angenon and Jan De Vos.
The Machines are up until now mostly known for their 1981 single "Don't Be Cruel" which became their breakthrough single. featuring the hit singles "Yellow Lights" and "(I See) the Lies in Your Eyes". If interested, the album is on sale now right here.