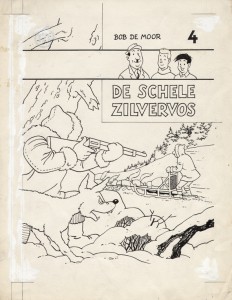 In 1956 the album "De schele zilvervos" (dutch for"The squint-eyed silver fox") by Bob de Moor was released. This 4th album in the 'Nonkel Zigomar, Snoe en Snolleke' series has a peculiar twist in the original cover artwork if you compare it to later editions. In the very first artwork (which you can see on the left) you see a fox next to the gunman. In a later version that fox would be replaced by a real squint-eyed fox – the animal also appeared as such in the album. De Moor completely redrew the cover adding more details to the sleigh and to the equipment of both the gunman and Uncle Zigomar.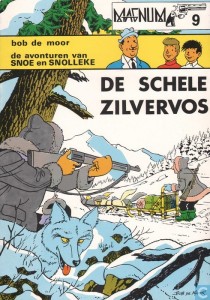 Note that the later versions saw the dutch tekst rewritten (with less Antwerp-flemish) too. Luckily enough the adaptation kept the flemish character (with a humor that was quite like the one from Willy Vandersteen) very alive. Next to this the pages also underwent a facelift as de Moor was well aware that the stories were from his hectic period when he was working both at the Hergé Studios and also still delivering strips for the daily 'Nieuws van de dag'. The biography "De klare lijn en de golven" (order here) learns us that Bob de Moor found an assistent, Geert de Sutter, who reworked the pages re-drawing the text balloons (which in the original versions were quite irregular), he also removed the shadow silhouettes in the foreground and replaced them by line drawings. The albums were then published in color by Casterman and Standaard Uitgeverij.
Also noticeable, in the early days the series was called 'Nonkel Zigomar, Snoe en Snolleke' whereas later on it would be renamed as 'Snoe en Snolleke' and even later would be completely rebranded as 'Johan en Stefan' in 1987 (not coincidently the names of 2 of Bob de Moor sons though they never were asked if they were ok with it so it seems).