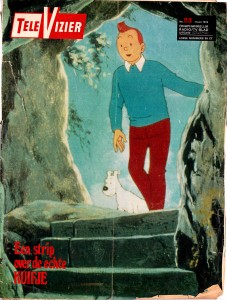 This morning we received a scan from the dutch Televisier magazine issue of June 8 1974. The cover shows a still from the film "Tintin and the Lake of Sharks" but for the rest the magazine published the same colored version as the one which appeared the year before in the dutch Pep magazine, which means that both the decors and characters were inked by Bob de Moor instead of just the characters on a celluloid background as was the case for the official album.
Side note: the dutch title is somewhat bizar, it reads "Een strip over de echte KUIFJE" which translated like "A comic about the real TINTIN". You'd wonder why they just didn't put "A TINTIN comic" or "A comic with TINTIN" instead.
Televizier is an AVRO run magazine. For the non Dutch speaking, AVRO is a Dutch public broadcasting association operating within the framework of the Nederlandse Publieke Omroep system. Public-service broadcasting in the Netherlands is provided jointly by a number of broadcasting organizations under the tutelage of NPO.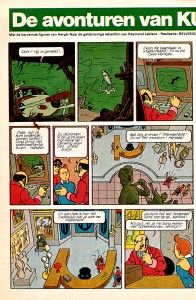 As you could already see in our other article on "Tintin and the Lake of Sharks", there's quite a versatility in the covers used to announce this colored version in magazine. The reason why isn't really known or at least has not been discussed in public. There were however official cover version drafts made for this album which never made it to the end stage. Instead magazines had to invent their own cover artwork by simply picking a case or a still in this example.
As a reminder, "Tintin and the Lake of Sharks" (French: "Tintin et le lac aux requins") was directed by Raymond Leblanc (1972) holding a scenario, not by Hergé, but by Greg. Bob de Moor supervised the whole.