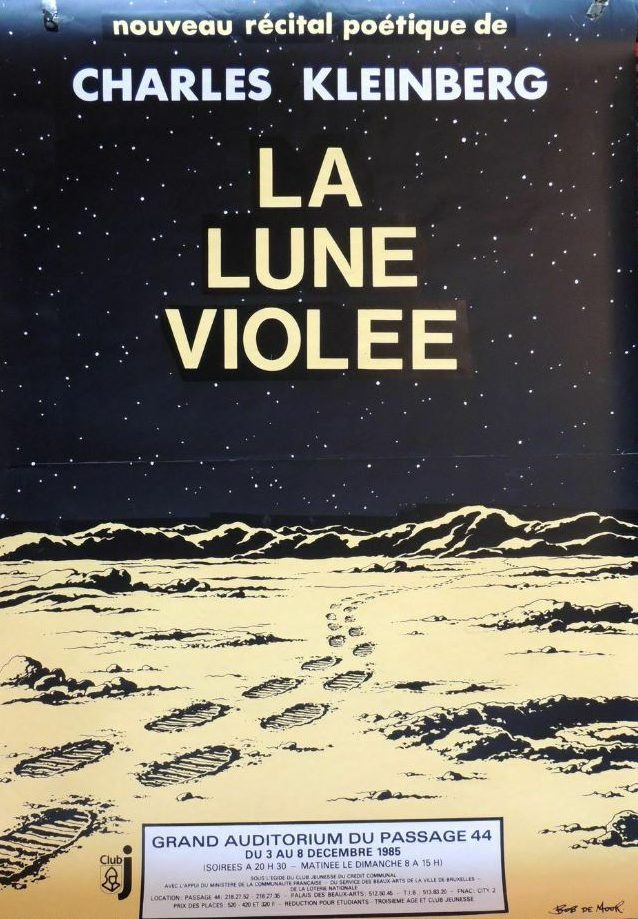 From 3 to 8 December 1985 the Belgian French speaking poet Charles Kleinberg presented a new poetry recital named "La Lune Violée" in the Grand Auditorium at Passage 44 in Brussels.
And behold, it was Bob De Moor who did the poster artwork inspired by the "Explorers on the Moon" lunar landscape which he had been working on in 1952-1953. The poster is similar to the following drawing from the album "Ils ont marché sur la Lune – De la fiction à la réalité" published in 1985. That short story actually was commissioned by the French magazine Paris-Match in 1969. They had asked the Studio Hergé for 4 explanatory pages about trips to the Moon. This didactic story had never been included in the Tintin albums but it was finally published by Casterman in 1985. It was probably Bob De Moor who worked on this mostly as we have found back prepatory drawings from this very album in our archives.
Little is known about the event itself, at least we didn't find much info except that Pascal Mitsuru Guéran was the stage director. But we will be able to tell you a bit more about the poet.
The late Charles Kleinberg (born in Brussels on October 16, 1937) died on May 15, 2013. He was an actor, director and teacher of interpretation and declamation of Belgian poetic texts in French. He was also director of the Royal Conservatory of Brussels and also the first director from the spoken arts (since 1832 all directors were musicians).
Since the 1970s, Charles Kleinberg has participated in numerous shows for Belgian radio and television as a poetic presenter-narrator, but like many former stars their 'rénommée' faded with time and he is now largely forgotten by the bigger younger public although he only died 9 years ago.
Over the years he has recorded numerous records and CDs of poetry: "Florilège de la Belgique littéraire", "Les Chemins de Verhaeren", "La Belle Maguelonne", "La Chanson de Roland", "Achille Chavée", "Odilon-Jean Périer"," Traité sur la tolérance de Voltaire", l'opéra "Brundibár" de Hans Krása and so on.
He equally worked under the direction of Míkis Theodorakis, Mendi Rodan, Emmanuel Rosenthal, Georges Octors, Jean Baily, Éric Feldbusch and Robert Janssens. And he was a member of the Union des Artistes du Spectacle, the oldest artistic association in Belgium, founded in 1927 by Lucien Van Obbergh at the request of the Union des artistes de Paris.
In March 1970 his first poetry recitals took place. Attracted by Africa he gave a series of recitals at schools and universities in Rwanda and Burundi where his spectators consisted of Africans as Europeans. His oeuvre is large and was mostly known in the French speaking world.