Yesterday you could read a post on a special Le Petit Orgue cartoon which Bob De Moor created for the 10th anniversary of the vocal ensemble, which lasted from the 70s till the 90s, and which had among its members Bob De Moor's son in law Luc De Meulenaere and several sons of Bob De Moor himself: Chris De Moor, Dirk De Moor, Stefaan De Moor.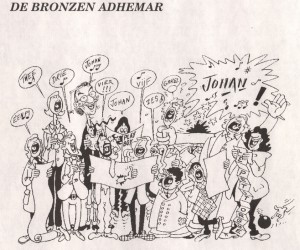 But we were pretty sure we had seen that drawing before, so we started digging in the archives and found the (altered) cartoon back in a 1989 press folder which was created for the Stripgidsdagen at De Warande in Turnhout, Flanders. It more precisely announced an upcoming exhibition of Bob De Moor's work plus it also announced that Johan De Moor had won the 1989 Bronzen Adhemar (formerly known as the 'Stripgidsprijs') for his Kasper series.
Inside the press folder we found a sheet of paper which held the cartoon, albeit in an adapted version. The print quality of the folder was not the best to start with so we can only show you the cartoon in the state it was published. Johan De Moor – who has just completed some new 'Kobe De Koe' pages for an epilogue – confirmed our suspicion that it wasn't Bob De Moor who adapted the original cartoon.
You'll see that the texts got changed to fit it for Johan De Moor's prize (the 'Le Petit Orgue' in the fold out that Dirk De Moor holds was however not replaced, probably forgotten) and that the head of Daniel Collette was replaced with the head of Bob De Moor.