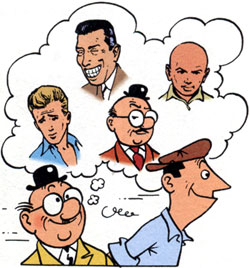 In 1957, in issue 36 of the Tintin journal, you could find the Meester Mus / Monsieur Tric story "Vedette de cinema"/"Filmster", a story by Bob De Moor on a scenario by René Goscinny. In the story he meets film director Lecri, a self-proclaimed cinema celebrity, who says that Tric is the perfect man for a scene in his new 'fine' comedy. Tric already dreams about becoming as popular as several other actors. But whereas these faces were familiar to readers back in the 50s, this is no longer the case.
The 3 other actors portrayed next to Tric with a posh mustache are American actor James Dean (1931 – 1955), French actor and singer Fernandel (1903 – 1971) and Russian born actor Yul Brynner (1920 – 1985). While James Dean will be well known with most of you – if not all – Fernandel and Yul Brynner might be lesser known names. So here's some extra info.
For more than forty years Fernandel would be France's top comic actor. He was widely known for his portrayal of the irascible Italian village priest at war with the town's Communist mayor in the Don Camillo series of motion pictures. His horse-like teeth – which De Moor also depicted – became part of his trademark. He did also make a few Italian and American films including 1956's "Around the World in Eighty Days" in which he played David Niven's coachman. Fernandel died from lung cancer and is buried in the Cimetière de Passy, Paris, France. You might remember Yul Brynner from his role as Rameses II in the 1955 Cecil B. DeMille blockbuster "The Ten Commandments", or in his role as General Bounine in the 1956 film "Anastasia" and as Chris Adams in "The Magnificent Seven". Also Yul Brynner died from lung cancer.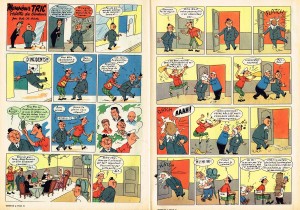 This story can be found back in volume 4, page 12 of the 5-volumes strong complete Monsieur Tric collection as published by BD Must. Note though that the version published by BD Must has a different coloring as compared to the version published in the Tintin journal. You can check the version from the Tintin journal on the left. You'll see that the original coloring differed from the coloring Hergé's Tintin got for instance. BD Must chose to use the same style of coloring as in the Tintin albums.
Good to know, there is no consensus as for who drew the faces of Fernandel, James Dean and Yul Brynner. It's our guess that François Craenhals gave a helping hand.