Today exactly 22 years ago Bob De Moor passed away. With his disappearance the Franco-Belge comic scene lost a monument. For the occasion we contacted a few comic authors who have known Bob De Moor to send us a tribute. Today we publish 4 of these drawings which clearly show the respect these comic authors had for Bob De Moor. A few other comic authors wanted to send a drawing too but were swimming in work and unable to deliver their work on time. Next time you can expect these.
Each drawing we publish today comes with an explanation of how the comic author is linked to Bob De Moor. None of these drawings have been published before and some were made especially for the occasion.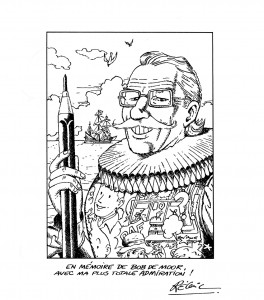 The drawing on the left is by Régric aka Frédéric Legrain, a French comic author we all know from Lefranc, his Barelli pastiche published in 2013 by NetCom2, "Été Indien pour la Mini" and so on. Régric is an avid Bob De Moor fan too and especially in "Été Indien pour la Mini" he is paying tribute to Bob De Moor. Note that for his Lefranc series he chose to go for a style that mixes both the styles of Bob De Moor and Jacques Martin. It was also Bob De Moor who encouraged him to continue drawing. You can follow the work of Régric on his blog. For his fine tribute to Bob De Moor Régric decided to go for a picture of Bob 'Knight' De Moor during the Cori era with a few of the characters he worked on placed on his chest.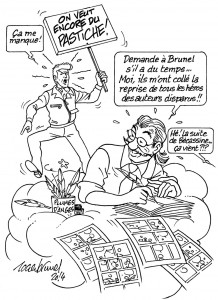 Roger Brunel is often called the 'King of the Pastiches' and of course he had a take on Barelli too. The story was published in the 3rd volume of the "Pastiches" series at Glénat Publishing back in 1984. In the pastiche Barelli was renamed Barille or 'Keg' in English. Barelli also appears on the front cover of the album next to many others such as Ric Hochet, Lefranc, Quick & Flupke, Natascha, Spike and Suzy, Benoît Brisefer and so on. His website can be consulted here. On the left you see the tribute he made for today's news with a clear reference to his pastiche work and to the Bécassine series Bob De Moor was supposed to continue. Good to know, Roger told us he wasn't aware that Bob De Moor had worked on Bécassine but thought it to be a good idea. Great minds think alike…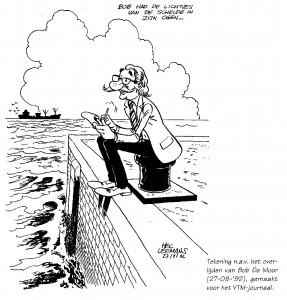 For Hec Leemans Bob De Moor was the very first comic artist he met face to face when he was just 15 years old. Already during that first meeting he gave him some useful tips. Says Hec: "I always remembered them: clarity for everything in your drawing." Later on both Hec and Bob would be actively involved in the CBBD (Centre Belge de la Bande Dessinée) in Brussels and remain very close friends. You can find more info on Hec's work on his website. Today's drawing shows a tribute to Bob De Moor which was originally supposed to be shown during the news of August 27 1992 on the Flemish commercial TV station VTM. For some reason it was never aired, so finally you get the possibility to see the drawing. The dutch text on top of the drawing reads "Bob had the lights of the Scheldt River in his eyes". The sentence refers to 2 things, the Dutch proverb 'pretlichtjes in de ogen hebben' (English: eyes that twinkle with joy) and "De lichtjes van de Schelde", a Dutch seaman's song from 1952 by Anton Beuving and Bobbejaan Schoepen about a sailor who wants to return safe and sound to his family. The song became a Flemish evergreen. By mixing both the proverb and the song Hec Leemans has been able to catch both the seaman inside Bob De Moor and his joyful character.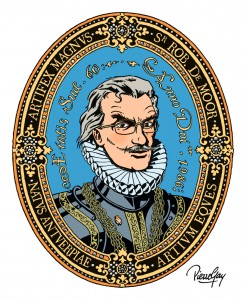 Pierre Gay was a young cartoonist who got hired 13 months after Hergé's death as an assistant to Bob De Moor. He will be the last cartoonist to be hired by the Studios Hergé. He stayed from 1984 until 1986 and worked on several projects with Bob De Moor including (but not limited to) "Marilyn et Staline vont en avion" and a cover for a Danish and English edition of the double album collectors' edition of "Destination Moon"/"Explorers on the Moon". We'll be interviewing Pierre Gay in the next weeks. In the meantime you can visit the website of Pierre Gay right here. On the left you see Pierre's contribution, which is based on a drawing he made in 1986 for Bob De Moor's 60th anniversary. For today's occasion he adapted the Latin texts. As you can see it is based on the portrait Bob De Moor made of Drake, featured on the first page of the Cori album "Le Dragon des Mers". Do you see the Tintin reference?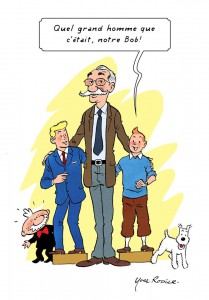 And at the last minute Yves Rodier, the Franco-Quebec comic strip author who got widely known for having completed "Tintin and Alph-Art" but who has in the meantime built himself a career with various comic books such as  Pignouf et Hamlet, Aventures de Simon Nian and more recently El Spectro, also sent us his version. Het met Bob De Moor at the 'Festival BD' in Brossard, near Montréal, in September 1991. They already had corresponded a few times before, regarding his version of "Alph-Art" which he was drawing at the time. You can read more on this in the interview we had with Yves a few months ago. The drawing Yves made for this Bob De Moor tribute features Tintin, Barelli and Balthazar with the text: "What a big man our Bob was" referring to both his career, his actual length and perhaps even more to the friendship and appreciation Yves felt for Bob.
We want to thank all contributing comic authors for their work and as Bob De Moor would say: "Viva boma, pattatten met saucissen!"