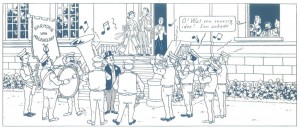 On 29 september 1984 the daughter of Bob De Moor, Annemie, married with Luc De Meulenaere. For the occasion Bob made a drawing representing the couple. For the actual wedding party invitation card Bob would have the drawing he made of the couple placed into the Moulinsart setting. As you can see the inclusion was smoothly and could as well have been part of the original frame which you can find on page 29 of the 1963 Tintin album "The Castafiore Emerald".
For many it will also be the first time they see this particular drawing without colors. You will notice that the drawing was made longer left & right, and higher in order to fit the couple into it. Bob De Moor also added a smile to the faces of Captain Haddock and Tintin.
The drawing Bob De Moor made can be found below and was sent to us by Annemie De Moor.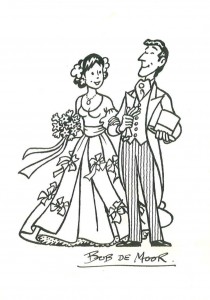 Bob De Moor's choice for this particular case is not surprising as the De Moor family has besides drawing another passion, and that is music. Dirk De Moor for instance is the director of the European Union Choir and both Chris and Stefaan De Moor are active singers with Chris having built out a successful career as bass while Stefaan continues to work in finances. But the key element for this setting was that Annemie's husband Luc De Meulenaere is a well known Tenori 1 singer attached to the Brussels theatre "La Monnaie / De Munt" since 1984. He also was attached to the Bayreuther Festspiele and has sung allover Europe. Bob De Moor would keep on making drawings for his family, here's another one which he made for Luc De Meulenaere.
Expect more of these jewels as the De Moor family opens its vaults for us to have a look into it.