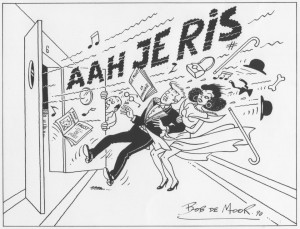 Today a nice item arrived in our mailbox. Sender: Luc De Meulenaere, the husband of Annemie De Moor, that's right, daughter of Bob De Moor. The drawing was made by Bob De Moor in 1990 especially for the occasion and given to Luc De Meulenaere, who is a singer – a Tenori 1 – attached to the Brussels theatre "La Monnaie / De Munt" since 1984. This theatre was also the home to the late director Gerard Mortier (1943-2014) for those who have followed the cultural news recently.
The drawing unites the worlds of theatre (represented here by actor Georges Barelli and actress Anne Nannah) and opera (represented here by the scream "Aah je ris" by opera singer Bianca Castafiore aka the 'Milanese Nightingale'). In the tornado of items that are blown out of the theatre you can see the hats and canes from Thomson and Thompson while you can also discover Snowy's bone. Since Captain Haddock absolutely despises her – and we see no bottles or a captain hat – we can assume he is not present :).
This drawing has never been published before. Enjoy!