Especially for the occasion of the 10th anniversary of the Le Petit Orgue Bob De Moor made a cartoon. Le Petit Orgue was a vocal ensemble, which lasted from the 70s till the 90s, and it had among its members Bob De Moor's son in law Luc De Meulenaere and several sons of Bob De Moor himself: Chris De Moor, Dirk De Moor, Stefaan De Moor. But let's have a closer look.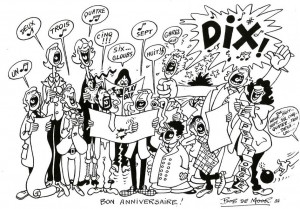 The cartoon, made in 1984, holds 13 characters (plus Bob De Moor throwing in a bomb which is about to explode anytime). The 3rd person from the left is Luc De Meulenaere (you can recognise him from the various other drawings which De Moor made of him over the time) and thanks to a post by Xavier Fourneau on Facebook we can identify several people on this cartoon (the identification was done by Luc De Meulenaere). The complete line-up from the left to the right is: Alain Bardiaux, Alain Caucheteux, Luc De Meulenaere, Daniel Collette, Luk Deurinck, Yves Goffinet, Claude Meiresonne, Benoît Pitsaer, Christian Dufour, Peter Van Alen, Xavier Fourneau, Bernard Bolsaie, Dirk De Moor and a maimed right hand of Bob De Moor (it's missing 2 fingers) throwing the bomb.
But something is off, it was Bob De Moor's left hand which got maimed during World War 2, so why is his right hand maimed on this drawing? Possibly De Moor decided that he had to roll a bomb from the right, which could only be an open right hand. But to put his trademark, he decided to maim the hand on purpose.
It would be interesting to get some of the 13 members together for a brand new picture…