In 1979 Campingaz, a producer of stoves, barbecues, coolers, etc. decided to advertise it's coolers using Tintin. It appeared to be a succes because a year later they decided to use Asterix to promote their thermos bottle range, Obelix for their portable stove sets and even Walt Disney characters to promote their lanterns.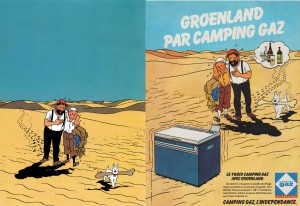 But back to Tintin. The ad has Lombard holding the copyright and it seems to have been commissioned via Havas Conseil. Havas Conseil nowadays is called Havas and is ​a French multinational advertising and public relations company, headquartered in Paris, France with almost 15.000 employees. The ad seems to only have been marketed in France.
The Studios Hergé completed a design using a fragment from the album "The Crab with the Golden Claws" with a cooler added in it with the text "Groenland par Camping Gaz – Le froid Camping Gaz avec Groenland". The publicity, drawn by Bob De Moor, was aimed at promoting the new range of Camping Gaz coolers marketed under the Groenland brand. You'll notice that Camping Gaz is written in 2 words whereas nowadays the brand is written as Campingaz in one word omitting a 'g'.
If you take the original drawing next to the publicity you'll notice a few differences. Instead of reusing the original drawing and adding a few extra details (the cooler, the text bubble with the drinks), Bob De Moor completely redrew the frame as seen on page 29 of the album. He also decided to mirror the original design. You'll notice of course that Tintin's face shows a delight, whereas the original version shows a desperate Tintin supporting Captain Haddock (who remains very thirsty in the new version). Captain Haddock also has slimmer legs than in the original version. But that's not all. The colors differ a lot from the original version, Tintin's shirt is yellow in the new version, he has white socks, and Snowy is wearing his mega bone in a different way. Also the sand decor is different.
If you have this item, let us know, we are looking for a better scan of the one page advert.