In early July we published an article on issue 15 of the German comic info magazine Reddition released in November 1989. A few weeks later we received an email from Johannes Stawowy, the man behind the 'Hergés Universum' magazine which was part of the 'Reddition' magazine. More precisely, from June 1987 to March 1992 he was the editor in chief of 'Hergés Universum'.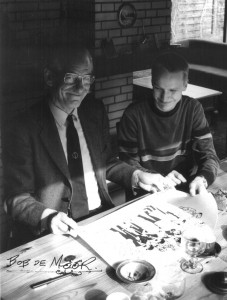 But that's not all, Johannes was also the person who had organized an exhibition ("Tim in Mülheim") in March 1986, Johannes was only 18 then. He invited Bob De Moor for a Q&A session on March 14&15 which was preceded by a screening of "Tintin and the Lake of Sharks". From that Q&A session with Bob De Moor, several videos also landed on Youtube. You can see all 3 below. You'll see Bob De Moor explaining how he works both for Tintin and his own books (Barelli), and also how things went when preparing for the film "Tintin and the Lake of Sharks".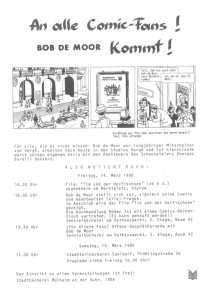 We asked Johannes some background info on how he got to meet Bob De Moor: During my childhood I was an enthusiastic reader of Hergé's work, but also of that of many other Franco-Belgian classic comic authors. When I was 15 years old, my passion for Hergé became more professional; Hergé had just died and in Germany there was almost nothing to be found from and about him, except the Tintin-books. So I sought contact with the Studios Hergé and Bob de Moor invited me to visit them! In the following years I founded a magazine ("Herges Universum") and organized an exhibition ("Tintin in Mülheim" 14 March 1986), to which Bob De Moor came personally and explained his work for the Studios and the characters he worked on. At the end of these two days he sat exhausted in my children's room and drew even more pictures for me. My highlight was a six-week vacation in the Studios Hergé in 1986. I was mainly there to bring some order into the archives and during that time they still had all the originals from Hergé and Bob De Moor. Looking back it seems like a dream to me.
Johannes would go on to study law in Osnabrück and Oxford and would obtain his doctorate in law. He also worked for the ministry of home affairs in Berlin. Today Johannes is married, has 2 kids and lives in Potsdam.  He provided us with a lot of pictures from the exhibition, but also sent us material of  Bob De Moor visiting his parent's home in Mülheim, Bob De Moor signing the Golden Book of the town of Mülheim and much more.
We show you a first selection below but we'll be posting more articles on Bob De Moor's visit as we were also given some of the correspondence leading up to this visit and to Johannes staying at the Studios Hergé.
Here are 3 videos taken from the session organized with Bob De Moor, auf Deutsch jawohl!
Below are several pictures from the archives of Johannes.
Bob De Moor explaining how they worked on the "Lake of Sharks" animation film.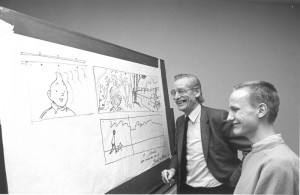 Bob De Moor draws Thomson and Thompson.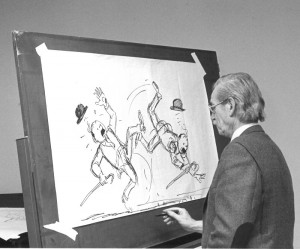 Bob De Moor explains how he draws Tintin (you can see the ear of Snowy already).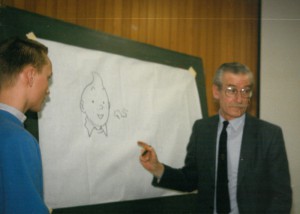 Bob De Moor's drawing in the Golden Book of Mülheim.