In June you could read an article on the site about "Histoire de mon pays: histoire de Belgique. Degré moyen", a book published by the French publisher Editions de l'Ecole in 1960. The book counted 64 pages and all featured drawings made by Bob De Moor. Back then I assumed that the cover was not by Bob De Moor and the reason for this was simple: it just didn't look like Bob De Moor's drawing style at all. But, I was wrong and I found that out this weekend when I went looking in the archives of the family De Moor. Much to my surprise I suddenly stumbled on a drawing marked 'Livre historique 1960' which represented the cover drawing of the book, but something was odd…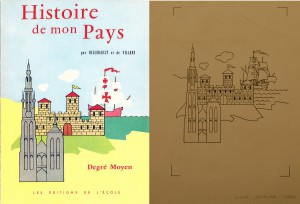 As you already could see, the cover of the book itself was in colour, the drawing I found was in black and white and when I looked closely I noticed quite a few differences which according to me is due to the publisher who decided he wanted the drawing reworked (by a second person presumably as the rework has a few mishaps). The differences you will see:
There is no shadow added using bold lines in the church/cathedral in the original drawing.
If you look really close, you'll see that the brick lines in the castle differ from the final cover, where some lines are missing (did they paint over it?). The lines are also a lot less clear in the final cover, again an indication that the drawing has been tampered with.
Other lines from the original drawing have been erased too: the clouds, the landscape, the waves in the sea.
The boat from the original drawing is missing most of its inside artwork in the final version. As a result the sails are almost invisible in the final version.
We will probably never know what really happened to this cover, after all, it has been 54 years since the decision was taken to change what Bob De Moor had delivered and nothing seems to have been documented. Nevertheless, it's now 100% sure that this cover was indeed drawn by Bob De Moor.
If it hadn't been for some of our readers (Petja van den Hurk for instance) who have the book but ignored who drew the cover artwork combined with a visit to the De Moor archives, we'd never have known/guessed also because the family De Moor did not have the actual book and didn't know of its existence making the identification of this drawing not an easy task.