In the past few months we dedicated 2 articles to the cover drawing which Bob De Moor completed in August 1992 for the 1994 publication "La 22, Enquête sur une mystérieuse Citroën". The book, written by Hervé Laronde and Fabien Sabatès and published via the French publisher Rétroviseur, features the very last drawing Bob De Moor would complete before succumbing to cancer in August 1992. That this is indeed the last drawing he would make had been confirmed by De Moor's wife Jeanne De Belder.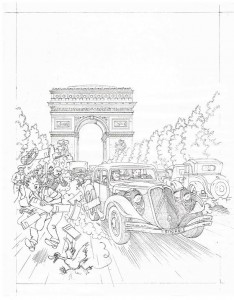 A few days ago Geert De Sutter, who has assisted Bob De Moor on several (new and re-published) albums, sent us a scan of the pencil drawing of this cover and he also told us how Bob De Moor and he worked together to complete this cover artwork. Bob De Moor made a rough sketch of what he wanted on the cover after which Geert De Sutter started drawing the actual cover.
It was however Bob De Moor himself who inked the drawing and as it seems he didn't change any detail during this procedure as Geert De Sutter also confirms (see also page 386 of the Bob De Moor biography by Ronald Grossey where this particular drawing has been referenced).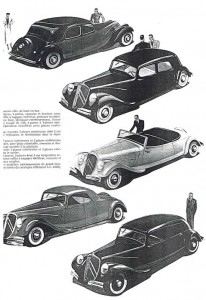 Geert also provided us with a scan of the documentation which Bob De Moor had sent him in order to draw the Citroën. You can see this original reference material on the left. You'll notice that the original source material used was quite old (it was a very old model after all).
With this 3rd article we have been able to show you the complete genesis of this particular Citroën drawing. We have several other such examples which will show you bit by bit. Thanks to Geert De Sutter for the material provided.