In November 2014 we presented you 2 articles based on Johannes Stawowy's archives of Bob De Moor's visit to Mülheim, Germany back in 1986, and more precisely the Q&A session which took place on March 14 & 15 of 1986. There is a lot more that can be told from this visit to Germany, so today we bring you part 3.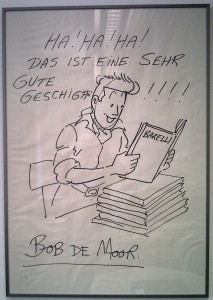 But Bob De Moor did more than just answering questions as you can read in this and this article. Johannes now sent us 2 extra photographs of drawings which Bob De Moor made in Mülheim.
They were drawn on the paper board that De Moor used during his Q&A session and on which he drew various examples of Tintin characters and explained how they were being drawn for use in the animated Belvision film "The lake of Sharks". Note that this is/was not the easiest way of drawing as many comic authors will acknowledge.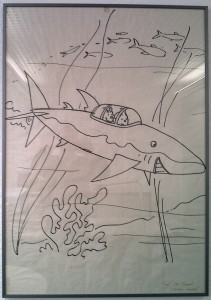 The first drawing shows Barelli reading his own adventures and saying that the stories are great. The second one shows a very simplified drawing of the cover of the Tintin album "Red Rackham's Treasure". If you look well you can actually see Bob De Moor's signature on the bottom right with underneath it, 'Studios Hergé'.
In the next days and weeks we'll continue with more articles based on the archives of Johannes Stawowy.