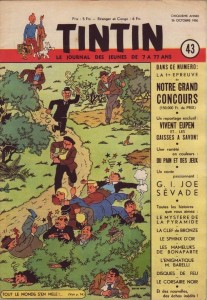 Update: we have been informed by Olivier Marin that the original black and white drawing as you can see in this article no longer exists as the owner of the drawing had it colored by a Studio Hergé colorist somewhere in the 80s.
On 26 October 1950 the Tintin Journal published a cover by Bob De Moor to announce a scene in the Barelli debut "L'énigmatique Monsieur Barelli" / "De raadselachtige Signor Barelli" (later renamed ""De raadselachtige Mr. Barelli" and even more later "De raadselachtige Meneer Barelli").
The story itself would run from number 30 1950 to number 9 1951. Since the story got first released in an album format by Le Lombard in 1956, each cover of a new edition would have a different album cover layout. But we'll get back on this in a later article. For now we focus on this drawing which would not be used in the French edition of Tintin.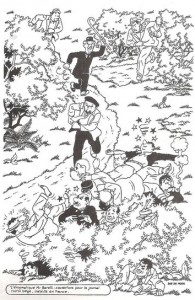 We also stumbled on the black and white version of the coverdrawing and a black and white drawing is always that bit different of course. You can enjoy it on the left.
The coverdrawing shows Bob De Moor's love for big sceneries where a lot happens. It's not surprising that the legend on the Tintin cover would say "Tout le monde s'en mêlée!…" (Eng.: "Everybody inter-meddles"). You'll see that De Moor's style of showing running people (see the old man with the can) is still a bit 'carré' as the french would say. But it also shows that De Moor was starting to master the clear line of Hergé very well.