A week ago we presented a watercolor painted landscape by Bob De Moor. Today we present you a still life, also from 1947. The watercolor painting comes from the private collection of the family De Moor and it's the first time that it is being presented to a larger public.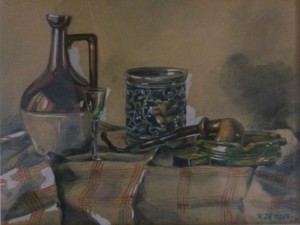 As you'll notice, Bob De Moor would never again use these kind of still life subjects in later paintings. Signed with R. De Moor (from Robert De Moor, his real name) the painting shows a carafe holding what we think might be jenever (also known as genièvre, genever, peket, or in the English-speaking world as Holland gin or Dutch gin), the small glass looks like a jenever glass, hence why. Some might suggest this to be a wine carafe, but wine was not that much consumed by the middle class in Flanders around that time.'Normal' people in Flanders drank jenever, often called a 'klare'.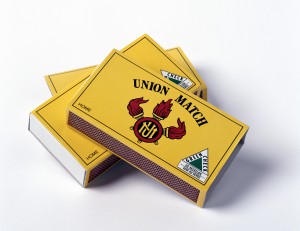 The clay mug you see, in the middle is not a beer mug, but a mug where tobacco was kept in. The tobacco pipe and ash tray confirms we are right. You also see a matchbox, from the Union Match brand, the yellow color is the give-away detail. Union Match was quite a famous match(box) producing company based in Geraardsbergen, Belgium. The brand would disappear in 1998.
This painting shows that Bob De Moor was still looking to perfect his skills, not only as far as coloring is concerned but also regarding the drawing itself.
Some historical background, the art of painting a still life developed as a separate category in the Low Countries in the last quarter of the 16th century. The English term still life derives from the Dutch word stilleven while Romance languages tend to use terms meaning dead nature.
The picture shown here is not a scan, but a photo, we expect to have a proper scan in the future and will replace it as this happens.