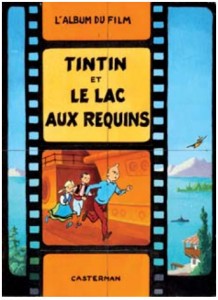 In 1973 Casterman released the album "Tintin and the Lake of Sharks" based on the Belvision produced animation film with the same title. The album held still images from the film as illustrations for the decors in the album with redrawn characters by Bob De Moor. We have discussed this album (and its various non commercially available versions) in the past, but this time we will focus on the cover artwork for the commercial album.
Both Hergé and Bob De Moor would work on a cover idea, but in the end it would be Bob De Moor's version which would make it to the album's final version.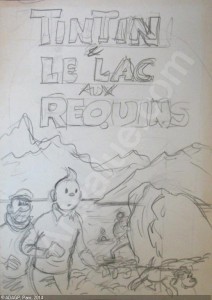 As you can clearly see the 2 versions were very different with Hergé going for a rather calm design with characters standing still, while Bob De Moor went for a more active approach with Tintin, Niko and his sister Nouchka running for their lives as the moment of the bomb explosion is coming closer. Up to you to decide which versions was the best.
In the upcoming weeks we'll also check on the different promotional drawings Bob De Moor executed for the promotion of the animation film.