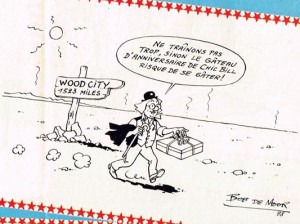 In 1978 Tibet's Chick Bill celebrated its 25th anniversary. On that occasion issue 39 of the Tintin Journal of that year was dedicated to Chick Bill with tributes from Bob De Moor and his colleagues Walthéry, Peyo, Derib, Franquin, Paape, Greg, Craenhals, Denayer, Morris, Dany, Leloup, Géri, Roba and Reding. Bob De Moor chose to have Monsieur Tric travel through the desert with a cake that risked to turn bad. The text balloon says: "Let's not hang on too long, otherwise this anniversary cake risks to turn bad". Tric had another 1523 miles to do before reaching Wood City… Typical humor from Bob De Moor.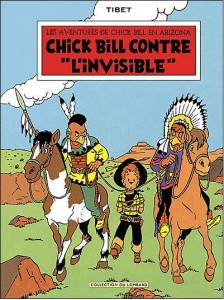 Chick Bill is a Franco-Belgian humorous Western series created by Tibet. It was first published in the Franco-Belgian comics magazines 'De Avonturen van Koenraad' and 'Chez Nous Junior' in 1953, and began serial publication on October 19, 1955 in Tintin magazine under the title 'Les aventures de Chick Bill le cow-boy'. Unfortunately Hergé didn't like the animal faces used in the series because they were according to Hergé too similar to the Disney style. So Tibet had to change the faces into humans. I say 'unfortunately' because the very first Chick Bill adventures had a very special aura, especially because Tibet had succeeded in selecting very well what animal would represent which character. Note also that these first albums were directed at a younger audience, just like the first Tintin albums actually.
Tibet (aka Gilbert Gascard) worked with scripts by Greg, André-Paul Duchâteau and René Goscinny.