After a brief stay in Mexico, with limited internet access unfortunately, we return to our daily routine of news updates. Today we present you an almost 74-year old drawing.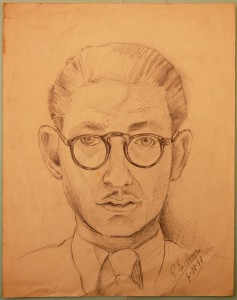 As we all know Bob De Moor loved making self portraits, most often they were more about laughing with himself – a good personality trait actually – but from time to time he also made a 'genuine' one, especially in his younger years.
Today we present you a drawing which Bob De Moor made on November 7, 1941. The drawing, signed R. De Moor, was made when the young artist was only 16 years old, and already then he had his distinctive moustache.
We found the drawing – on 'time yellowed' paper – in the archives of the family De Moor.