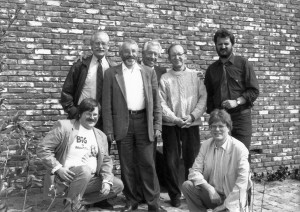 Ad Hendrickx, owner of the Turnhout (Belgium) based comic shop 'Tistjen Dop', sent us this nice picture of Bob De Moor when he was part of the jury for the 'Bronzen Adhemar 1991' in Turnhout, Belgium. On the picture you'll recognize from the left to the right: Ad Hendrickx, Bob De Moor, Jan Smet, Marc Sleen, Manu Manderveld, Patrick Van Gompel, Hec Leemans. This fine league of gentlemen would select Jan Bosschaert to win that year's award for his work (Sam, Omni).
The 'Bronzen Adhemar' (Dutch for "Brass Adhemar") is the official Flemish Community Cultural Prize for Comics, given to a Flemish comics author for his work. It is awarded by the Flemish Ministry of Culture during 'Strip Turnhout', the major Flemish comics festival, once every 2 years.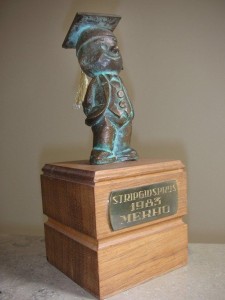 Initially the idea for the price came from the magazine Ciso which awarded Bob De Moor the Ciso-Award in 1972. In 1977 it was launched as the 'Bronzen Adhemar' Award to emphasize and enhance the quality of Flemish comics.
From 1979 on, the winner also got an exposition during the festival in Turnhout and the prize changed from yearly to 2-yearly. The organization of the Award was transferred to the 'Bronzen Adhemar Stichting' in 1991, and again to the Flemish Community in 2003, when a monetary prize of 12,500 Euro was added to the statue all winners received. The prize would remain a De Moor tradition as Johan De Moor won the 1989 award with his excellent series 'Kasper'.
The "Bronzen Adhemar" is named after Adhemar, the genius son of Flemish comic hero Nero, and although normally only given to Flemish comic authors, in 2003 the Dutch comic author Matena received it as well. Since he lives in Belgium since the mid-1980s he is considered to be a completely assimilated Flemish citizen :).
Winners in the past were (and you will discover various people we have interviewed or talked about already):
1972: Ciso-Award for Bob De Moor
1977: Hec Leemans and Daniel Janssen for Bakelandt
1978: Kamagurka for Bert
1979: Karel Biddeloo for De Rode Ridder
1981: Jean-Pol for Kramikske
1983: Merho for Kiekeboe
1985: Berck for Sammy and Lowietje
1987: Erika Raven for Thomas Rindt
1989: Johan De Moor for Kasper
1991: Jan Bosschaert for Sam and Omni
1993: Eric Joris for Chelsey
1995: Dirk Stallaert for Nino and Nero
1997: Ferry for "The chronicles of Panchrysia"
1999: Eric Meynen for "The years of Dehaene"
2001: Marvano for "The Forever War" and "Dallas Barr"
2003: Dick Matena for "The evenings"
2005: William Vance for XIII and Bob Morane
2007: Kim Duchâteau
2009: Willy Linthout for "Het Jaar van de Olifant"
2011: Steven Dupré
Note that there were also 2 Golden Adhemars handed out over the years, one for Marc Sleen (Nero, …) in 1993 and one for the late Jef Nys (Jommeke, …) in 2005.