In 1991 the Antwerp based book fair called Boekenbeurs in collaboration with the Belgian Post launched an envelope and stamp holding 'Cori Le Moussaillon', and this to promote the youth philately. Whereas the stamp is widely known, the drawing on the envelope is less known (to some extent).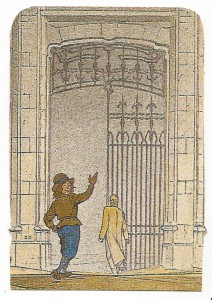 The drawing itself refers to the Belgian Comic Center which is based at the Zandstraat 20 in Brussel. There are a few elements indicating this. First of all, you'll see that Cori is walking through sand. Secondly, on the left you can see the number 20 on the wall. A 3rd element is the Art Nouveau aspect you find on this drawing and also in the warehouse as designed by Art Nouveau architect Victor Horta. You will also recognize the main entrance gate. But something isn't right in this drawing. It's not a Bob De Moor drawing, only Cori is.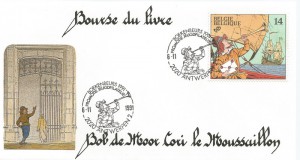 Entering the gate is a figure having the François Schuiten's signature and that is a give away that this drawing is part of something else, something bigger.

The original bigger drawing holds Cori, Blake & Mortimer (which Régric points out as possibly also drawn by Bob De Moor) and Boule & Bill pasted on Schuiten's – sublime – background. This was published in 1991 as a booklet cover holding 4 stamps holding characters as designed by Edgar P.Jacobs, Bob De Moor, Francois Schuiten and Jean Roba / P.P.G. De Schutter. The composed drawing on both the booklet cover and on the envelope was quite badly printed. You'd expect the Belgian post to do a better job than what they did here.

For those who don't know (Baron) François Schuiten, he is a Belgian comic book artist and best known for drawing the series "Les Cités Obscures" (Casterman). That Schuiten appears with a Victor Horta inspired background shouldn't be a surprise, together with Benoit Peeters he also helped to save and subsequently restore the 'Maison Autrique', the first house designed by Victor Horta.
These envelopes can still be obtained here and there and fetch something between 5 to 10 euro a piece. Maybe artistically not really interesting, but historically it has its value.