That Bob De Moor had an immense admiration for Hergé is an understatement. Both ended up being so symbiotic that in the end you couldn't read Tintin without thinking of both. There are a lot of drawings around where Bob De Moor pays tribute to Hergé (including this "De la planche aux planches" in a one-page Barelli story from 1986) but some are more seldom than others.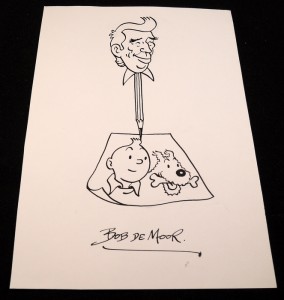 Today we present you an original, which is currently being auctioned at Catawiki and which was only recently discovered (or let us say, re-discovered).
So far it fetched 240 Euro but you can be pretty sure that this price will rise in the next hours (update: it fetched 370 Euro in the end). The 19 x 13,5 cm drawing shows Tintin and Snowy as drawn by a pencil with Hergé's head on it.
Very simple in its design, it's quite a statement from Bob De Moor, who was perfectly capable of drawing Tintin himself (for those who would still doubt, it suffices to read the 1966 version of "The Black Island", mostly drawn by Bob De Moor). The drawing puts Hergé as main talent behind Tintin and Snowy, something which Bob De Moor always stressed when being interviewed, before and after Hergé's death.
It's not sure when this drawing was actually made, if we have a date, we'll update this article as such. Our guess is that it must be somewhere in the early 80s. If you have mor information about this drawing, don't hesitate to contact us.