In 1989 Haarlem born Rob Harren (Lombard Nederland) was asked to put Le Lombard back on the rails and especially make sure that their comic authors got pre-publications, something which until today is key to get a (new) comic series off the ground. He contacted Bob De Moor and Belgian comics writer and mystery novelist André-Paul Duchâteau to join Le Lombard as artistic director and publisher at Le Lombard. More precisely Duchâteau would become responsible for the detective series of the Lefrancq imprint but both would have their say in what was to be published.
In reality Rob Harren knew that he needed people who others would trust and who were household names. De Moor and Duchâteau were both and they made sure that Le Lombard was able to get its business back on track.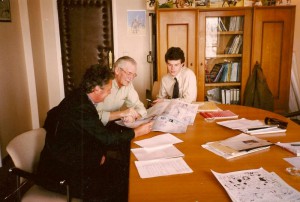 Another – now famous – writer would join Le Lombard in 1991, first as editor and later in 1992 as publishing director: Yves Sente. Knowing a lot of authors through his work as an editor, Sente branched out to writing comics, specializing in continuing existing successful series where the original author had died or was no longer interested in it, for instance Blake and Mortimer and Thorgal. He also created two new short series.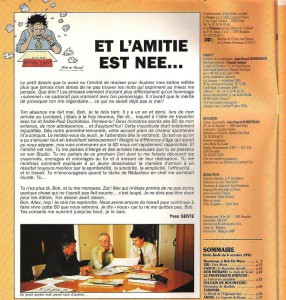 It was that very Yves Sente who sent us a picture last night of an editorial meeting that took place in March 1992 at Le Lombard in Brussels. On the picture you see the young Yves Sente on the right with Bob De Moor and André-Paul Duchâteau on the left.
A different picture from the same session accompanied Yves Sente's farewell article in the special Bob De Moor issue of Hello Bédé magazine published on 6 October 1992. We added a scan of said page on the left.