A few days ago you could read an article on the work Armand "Mon" Van Meulenbroeck did for Artec Studios, the company founded by Bob De Moor and John Van Looveren. Today we present you another comic which has always been attributed to Bob De Moor, but which is not by Bob De Moor at all: Tim & Tom.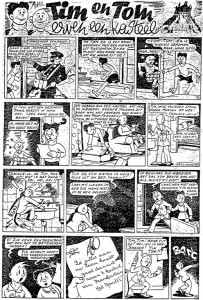 The page scan we present you today comes from an issue of the 1949 (another source indicates it was published in 1951) edition of the weekly youth journal 't Kapoentje. The comic series is called 'Tim en Tom' and the story is called "Tim en Tom erven een Kasteel" ("Tim and Tom inherit a Castle") and this story has always been said to be by Bob De Moor in many publications (with some writers saying that "one can clearly recognize the Hergé-esque influences…" Really?). Weird, because it doesn't take much time for anyone familiar with the work of Bob De Moor (or drawing as a matter of fact) to raise a few question marks when seeing this page. The style as used in the drawings has close to nothing in common with what Bob De Moor drew around that time. It also showed some very clumsy drawing (shoes, hands, …) which – although Bob De Moor was working at speed tempo around that time – you would not expect from him. But, the story did come from the Artec studios, you can see the Artec Studios signature on the second strip, and that for instance led to the people from Stripofiel claiming that 'Tim en Tom' was by Bob De Moor in their issue nr. 8 from 1974. Danny De Laet – who first also attributed the series to Bob De Moor, rectified his judgement in "De Vlaamse Strip Auteurs" (published by De Dageraad in 1982) on page 43 saying that the 'Tim en Tom' story was "definitely not by Bob De Moor".
An almost sure thing is that the drawings were made by a flemish comic author, the use of 'ge' (flemish for 'you') was never used in the Netherlands for instance. It's also seems to be a one-off story which was published in both KZV and in t' Kapoentje, but which seems to have been interrupted only to be continued in Het Wekelijkse Nieuws. So it doesn't seem like it that the editorial staff of 't Kapoentje were all that happy about the result of the work.
But who was the artist then behind this 'Tim en Tom' then? John Van Looveren possibly was the storyteller (he did love the castle theme a lot), but who made the graphics? Armand "Mon" Van Meulenbroeck comes to mind (again), after all, he was the only comic artist ever to be paid by Artec Studios next to Bob De Moor. Compare the first case in the unfinished drawing in this article with the second case in the first strip of today's scan and you will see a few similarities. But as a whole, it's a mixed bag of influences; you'll will recognize a Willy Vandersteen touch (see the postman) next to a not so well executed Hergé imitation.
If you ask us, Bob De Moor didn't provide rough sketches for this series like he did for the cartoon series we talked about. The series is far from being a graphic chef d'oeuvre, but as a historical document it serves its purpose rather well. After all, the few years that the Artec Studios were active, represented a very important milestone in the history of the flemish comic scene, whether it was Bob De Moor or not making the drawings.