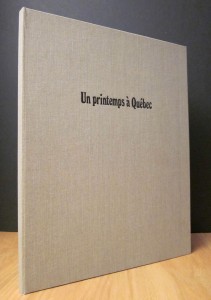 In 1988 the Canadian Québec based publisher Réal Fillion issued a book "Un printemps à Québec" holding a portfolio of 14 drawings in color by some of the most famous comic artist from that time.
The portfolio we talk about here was published on the occasion of the 1st 'Festival de la BD francophone de Québec' (FBDFQ) held in April 1988. Réal Fillion was also the organizer of said festival.
Released on only 390 copies the "Un printemps à Québec" book is a hard to find item which however pops up on eBay
 every now and then.
Note for the Belgian readers : at the CBBD in Brussels they also have a copy  in the library which you can scrutinize. The library is a place that is full of treasures for Bob de Moor fans actually. So you know what to do the next time you are in Brussels.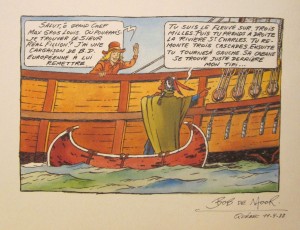 In the book you'll find illustrations by the following comic artists: François Craenhals, Bob de Moor, Zoran, Antonio Cossu, Jean Morin, Mario Malouin, Martine Boutin and Johan de Moor. On the left you can see the drawing that Bob de Moor made in Québec on April 11, 1988. You can see Cori asking the direction to Réal Fillion where he has to drop a packet of European comics.
Note that one of the Québec comic artists who have since appeared there was Yves Rodier… does it ring a bell? More on Rodier and his encounter with Bob de Moor in the next days.