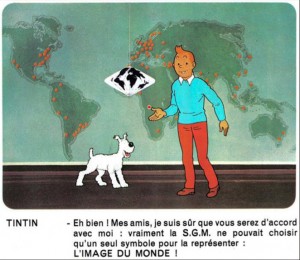 In 1969 Belvision was asked to create a small Tintin promotional animation film for Société Générale, a French multinational banking and financial services company headquartered in Paris, and more precisely for the Société Générale des Minerais (SGM). This company specialized in the transport of metals in Congo. Congo was at that time already decolonized (since 1960) and being pillaged by Colonel Joseph-Désiré Mobutu (aka Mobutu Sese Seko) who amassed over 4 billion dollar during that time, as much as the total debt the country had.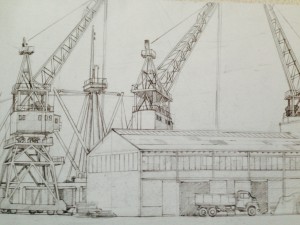 The 7 minutes 45 seconds animation short saw several people collaborating on it: Greg completed the (rather naive) scenario, Nic Broca designed the storyboard while the Studios Hergé created the model sheets. Bob De Moor was asked to draw the decors in pencil while Claude Lambert would color them. Lambert would also work on the "Tintin and the Temple of the Sun" also released in 1969 just like Broca.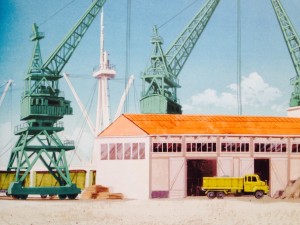 The film would be produced on just a few 35mm color (and super 8 mm?) copies, and as you will notice, the available material on the net is not really excellent as far as viewing quality goes (see below).
You'll also notice Tintin for the very first time in jeans (!), something we would see again in the "Tintin and the Picaros" album completed and released a few years later.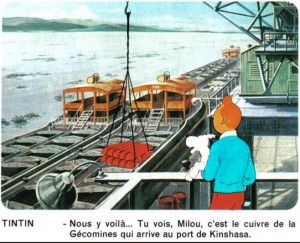 From this animation also a 50 page booklet (if you also count the frontpages) in small format (10 x 11 cm) would be produced in 1970 by Editions Publiart having one frame per page with text written underneath it. In the example on the left you see page 10 of the booklet. Note that the character drawings used for these frames were not always the same as in the actually animation short. Not that this is odd, in the end the same changes would be seen for the albums made from the animation films "Tintin and the Temple of the Sun" (1969) and "Tintin and The Lake Of Sharks" (1972).
It's unclear who made the drawings in this booklet, but the quality differs from frame to frame with page 42 and 49 showing frames that look like they might have been adapted by Bob De Moor. If you are able picking up the booklet from an auction or flee market, don't hesitate, it's a rare gem which hides more than just a silly SGM story. Let us also hope that a good copy of the animation itself will pop up soon.
To discover more on this project, make sure to get, BELVISION – "Le Hollywood européen du dessin animé"
, the book has a lot of visuals on the projects involving Bob De Moor and is a must-have in your collection.