In 1962 Bob De Moor was one of the winners of what we suppose was the 'Kartoenale', a yearly cartoon evenment in Knokke-Heist (at the Belgian coast) which was organised for the very first time in 1962. The cartoon we show you today was the cartoon that made him win that year.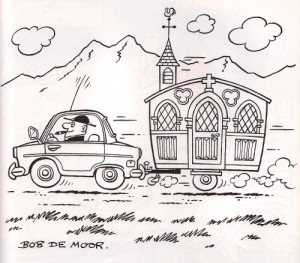 The style in which this cartoon has been drawn is very much unlike other Bob De Moor drawings and it is a good example of how De Moor broke out of the graphic confinements from time to time to present a new style which he would only use for a short period of time or just for one kind of drawings, in this case a cartoon. The drawing itself shows a priest in soutane outfit going on a holiday trip with his caravan, which is actually a small church on wheels, a 'churchavan' in short. At that moment caravans started to get more and more popular so it isn't a surprise that this 'gadget' shows up in his work.
There are various cartoons which Bob De Moor made during these years, especially for contest like the 'Kartoenale'.