If you thought that Bob De Moor's finest medieval work had to wait till he was to create his Flemish trilogy for Tintin then you will reconsider this thought after reading this article, and especially after having seen the illustration we will present today.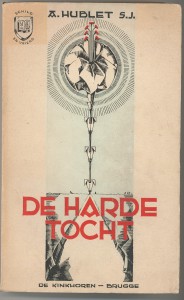 The first thing you need to realize when talking about Bob De Moor's early work is that he had to work under a lot of stress. During his early years as a professional comic author he had to provide an income for his young family which resulted in him working on up to 7 different series at the same time. That of course had an influence on the quality of his work (even though the quality stayed ahead of many other comic authors working at that same time).
The drawing we present you today dates from 1946 and shows the big talent Bob De Moor had for realistic drawings too.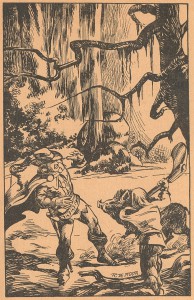 It was again Chris Mouton who provided us with this little pearl. The drawing was published in the 1946 book "De harde tocht" published by the Bruges based editor De Kinkhoren as part of their 'Schild en vriend' collection. It is actually a Dutch (in the old spelling) translation (by Frans Van Boogaerdt) of the 1938 book "Mission Périlleuse" which was written by the Belgian French speaking monk/priest A. Hublet.
The drawing style reminds of that one which De Moor would use 4 years later for "Sterke Jan" for instance. Note also that it looks very much like it that De Moor mimicked a print made from an engraved plate here, something he would only use in a few other stories later on (Cori for instance). The style, which is way ahead of some of his other work produced at the same time or even a year later for instance, shows very much that Bob De Moor needed the more stable environment of the Studio Hergé later on to deliver some more masterpieces.
The 192 page counting book has 7 illustrations by Bob De Moor (signed with 'R. De Moor'). The story itself is placed in the middle ages and talks about a knight looking for the 'Easter flower' ('Paaschbloem' as it says in the translation).
Happy hunting!