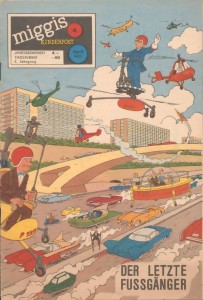 Olivier Marin (comic artist known from his 'Les enquêtes auto de Margot' series) sent us this lovely frontpage from the Swiss monthly magazine Miggis Kinderpost which took over material from the Tintin Journal. The same drawing also appeared in the Tintin journal of course.
This cover was made by Bob de Moor for the Monsieur Tric story "The last Pedestrian" ("Le Dernier Piéton") which was first published in the Tintin Journal in December 1955.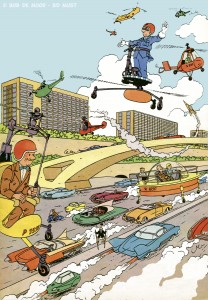 The german magazine Reddition later on published an issue in the summer of 2013 which was entirely dedicated to the Brussels School (Reddition 58 – Brüsseler Schule, Edition Alfons, Verlag Volker Hamann, Barmstedt Juli 2013) and used that same drawing. That image however was restored by BD Must in order to publish it in the complete 5 album set of Monsieur Tric and also shows a more vivid use of colors. You can see that restored image on the left.
Read more on the restoration process in our interview with Jean-Michel Boxus from BD Must.