Throughout his whole life Bob De Moor would work on all kinds of interior design, just like Hergé actually did. Nothing exceptional, in the end we all have gone through that process before heading to IKEA (to name just one store). But things get a bit different when you can actually draw as well as the aforementioned two gentlemen.
Stefaan De Moor told me during one of our meetings that his father would often draw a design interior, and that happened every time he had stayed at a hotel, holiday house at the coast or had visited a friends house whose interior left a good impression on him: "He would create an own design, but it would remain just that, a design (laughs)." Stefaan also recalled that he once drew a complete house including an inside/outdoors swimming pool: "And no, we never had a swimming pool in the house!"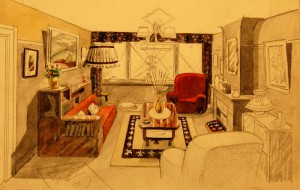 Today we present you one of these drawings which we found in the archives of the family De Moor.
The drawing presumably dates from the late 40s, early 50s looking at the interior design of what looks like a living room. There's another hint that this is a late 40s, early 50s living room, there is no television set nor a space designated for it.
So let's see what further elements we find back which might have pushed Bob De Moor to create this drawing. A couple of things leap out. The sofa on the left is embedded by what looks like a book cupboard, which must have looked practical to Bob De Moor. Next is the big white lamp; the size of it stresses the importance, he absolutely wanted it to be there. We continue further to the back and see cottage curtains (and influence from the anglophile Edgar P. Jacobs?). On the right we find a red seat, the colour is quite vivid and actually attracts a lot of attention, again a sign that De Moor absolutely wanted to have this furniture part of the design. Finally there's the Art Deco styled small table and the carpet with what looks like a french fleur-de-lis pattern. The same pattern – albeit with inverted colours – can be found in front of what looks like a bookshelf in an open fire.
Although the drawing looks like it was never completely finished, you get a vivid idea of what inspired De Moor around that time, as far as the interior of houses is concerned that is. There are a lot more of these drawings which we will reveal bit by bit…