A few days ago we presented you the first article in a series of articles that will treat the genesis of the 1988 album "Barelli in bruisend Brussel". The assistant of Bob De Moor for that album was Geert De Sutter, who took care of the background/decors in the album. Since both men only had a few months to complete the album they had to work rather fast. To get the work done in such a short time, Geert De Sutter decided to get himself a Polaroid camera and use that to sketch the decors.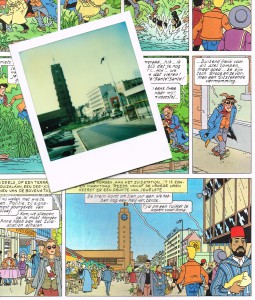 Here's how it went. First Bob De Moor sent him his sketched pages after which Geert went into town (he lived in Drogenbos then, a municipality located in the Belgian province of Flemish Brabant) to take the necessary pictures and start work on the decors the same day.
The Polaroid example we show you today comes from page 13 of the "Barelli in bruisend Brussel" album and represents the clock tower of the Brussels-South railway station (don't mistake with the Tour du Midi). It's one of 2, another clock tower can be seen at the North railway station. This clock tower was demolished when the railway station underwent a complete relook a few years later for the arrival of the TGV. Not that the station is a beauty nowadays, it has earned several nominations for worst railway station worldwide, due to the very high criminality and the not so clean reputation overall.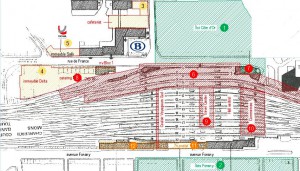 To get an idea where the tower was located you should stand in front of the Pullman Brussels Centre Gare du Midi hotel which was inaugurated in the summer of 2013 (see also the map on the left, the number 7 indicates where the clock tower stood).
On the Polaroid picture you can equally see the Côte D'Or building on the right of the tower (with the elephant), this was also included in the drawing for the Barelli album. This building was – surprise surprise –  also demolished later on when the TGV arrived in Brussels.
All in all it's quite interesting that this album features historical documentation which people visiting Brussels nowadays won't find back due to an inflated urbanism which has overrun Brussels and left quite some scars in the city.