When Jean-Michel Boxus, boss of the Brussels based editor BD Must, started work on the reissue of the Monsieur Tric albums (available here), he also decided to include all of the Monsieur/Professeur Tric/Troc stories which never had been published before in album format. The stories concerned are the ones which never had been published as a one page story in Tintin. What followed was a lot of time going through each and every Tintin issue in order to get hold of each and every 'missing'  Tric story. They would be added in volume 1 of the Monsieur Tric collection.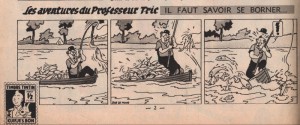 One of those stories, titled "Il faut savoir se borner" which can be freely translated as "You must learn to know when enough is enough", has some extra information attached to it. Published on the 2nd page of the Tintin of 17 February 1951, the 3-case strip sees Tric out on a fishing trip which looks very successful in the first case. Too successful because his boat sinks in the 3rd and final case because of the huge amount of fish he has caught.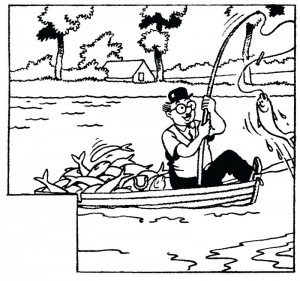 You can see that the first case is 'incomplete' because the Tintin Stamp was placed in the left bottom corner of the page – not by Bob De Moor, but probably by the same person who also added Snowy in this drawing (it is commonly believed that these "La classe sans maitre" drawings were the precursors to Professeur Tric since the Tric character would appear only a few weeks later). A Tintin Stamp in a Monsieur Tric album? That would have been a no go, so BD Must had to find a solution in order to get the story published.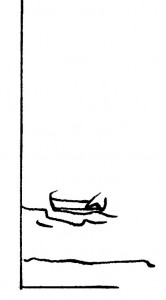 Since the original drawing was lost, Jean-Michel Boxus asked Bob De Moor's son Johan De Moor to restore the drawing to what could have been its original version before it was printed in Tintin. As we all know, this isn't the first time that Johan De Moor has been restoring drawings from his father in order to be published so the request was a very logical one. In case you missed it, for the last version of "De schele zilvervos" (dutch for"The squint-eyed silver fox") out via Standaard Uitgeverij, Johan De Moor even completely redrew the cover.
On August 7, 2012, 3 days after the initial request was made, Johan De Moor sent the missing corner of the 1st case to BD Must. You can see the replacement on the left. The drawing was then placed in the cleaned out scan from the Professeur Tric strip and coloured with the rest of the cases.
Thanks to Jean-Michel Boxus for helping out with this article.