On January 26 1950 Bob De Moor again got the chance to complete the frontpage of yet another Tintin magazine, Tintin N°4 of that year more precisely. The subject of the drawing was "La classe sans maitre", a class where the teacher was nowhere to be seen, resulting in quite some mayhem. We all know that frontpage, at least I hope you do, but what many don't know is that Bob De Moor also drew the drawing on page 2 illustrating Tintin's editorial. We are going to take a closer look at that particular drawing today.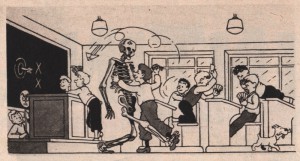 But first this, the idea for that particular chaotic frontcover was based on a real story, explained in the editorial by Tintin. In a Swiss school a teacher was unable to attend his class for 3 days due to family matters. On his desk he had left a letter explaining why he would be absent and also the request to behave. Surprisingly enough the kids did behave for 3 long days, reading and studying. The frontcover of Tintin represented the worst case scenario of course.
As we just said, a drawing was also placed above the editorial more or less giving a further insight in what could have been the worst case scenario. This was drawn by Bob De Moor although his signature is missing. We recognise several elements from the frontcover: a kid is throwing darts at the blackboard, there are kids playing cards, a paper plane is being thrown. There are also 3 other elements popping up which are missing in the frontcover: you see a pupil dancing with the skeleton which in the frontcover has donkey ears placed on its head, a kid is holding up a mask behind the desk of the teacher (not in the frontcover) and Snowy is passing by chewing on his trademark bone. Something is off though. As you can clearly see, the feet of Snowy don't touch the ground and it looks like he has just been pasted in there quite rapidly.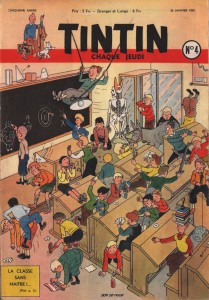 It is very doubtful that either Bob De Moor or Hergé would make such an error (it looks way too clumsy). Also Bob De Moor would not have done this, because adding a character of Tintin in his own drawings that soon in his collaboration with Hergé would have meant a certain artistic suicide. So it's our guess that a layout guy quickly pasted Tintin's compagnon in there using a cut out copy of Snowy.
It's also our guess that this editorial drawing was made before Bob De Moor started on the frontcover drawing. The first drawing just isn't as detailed as the frontcover and you also see that the remaining  ideas which you also find back in the frontcover have been worked out even more in that frontcover.