In 1974 Bob De Moor would publish "Barelli et le bouddha boudant". Among Bob De Moor fans, the story and especially the cover of this album are widely considered as being the best in the Barelli series. Not many know however that Bob De Moor actually completed several versions of the album cover, not one, not two, not three, not four, not five but many more. Today we present you one of the covers which never made it to the final version. Thanks to Olivier Marin who gave us an insight in his vaste collection and where we discovered this item.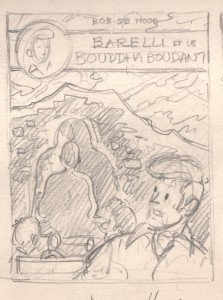 We found today's drawing on a page on which Bob De Moor had drawn 6 versions of the Barelli cover. 3 of these were added on the front of the page, 3 more were added on the back (of which 2 are less developed than the other 4). Just like the title makes you suspect, the recurrent character on all of these drawings is a bouddha.
A hint why this cover never made to the final version is that it bares a similarity with a cover Bob De Moor did for another Barelli title, namely for the modernised cover version of "L'énigmatique monsieur Barelli", including a Barelli with his back on the main action. You can discover the same Barelli with the action happening in the background on this "Barelli et le bouddha boudant" test cover.
The actual drawing is only 15 cm high, but we enlarged it here to give you a better view. Note that this cover was really quickly drawn and probably only took him a few minutes to complete. You will also notice that the title is in French, not surprising as Bob De Moor was writing his scenarios more and more in French by then. His mindset probably was also more French since he had been working for years amongst French speaking colleagues. That's a lot of 'French' in just a few sentences, but it underlines the why.