With over 12 people killed and several severely injured during a terrorist raid by Islam extremists on the offices of the satirical magazine Charlie Hebdo, January 7th, 2015 will go into history as the 9/11 of art. So far the shooting cost the lives of 5 cartoonists: Charb, Cabu, Wolinski, Philippe Honoré and Tignous.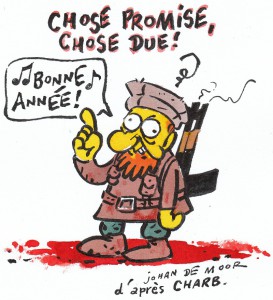 When we reached out to Johan De Moor yesterday afternoon he was in shock, having known several cartoonists personally. He promised to send us a cartoon and this morning we received these 2 drawings, the first being a rework of Charb's last drawing, drenched in very dark cynical humor. We're sure that Charlie Hebdo would have loved it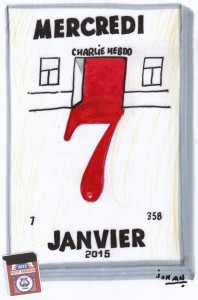 The second marks the day of terror. Voicing a thought can mean the end of your life, also in Europe. Freedom of speech in Europe is under threat and it remains to be seen if other magazines and cartoonists will censor their work in order not to end up dead themselves. For those opposing to the freedom of speech, always remind these words (often erroneously quoted as being from Voltaire): "I disapprove of what you say, but I will defend to the death your right to say it."
And this morning Johan sent us this picture of Belgian cartoonists united for Charlie Hebdo and the freedom of speech and art. You can see Johan De Moor, second on the right.