In December 2016 this site published an article titled "Sinterklaas with Bob De Moor in 1960" showing a cartoon which was published in the daily Het Nieuws van den Dag of 2 November 1960 (and which Yves Kerremans sent to us).
The drawing in that article depicts Sinterklaas on a roof full of antenna and was made for the 'Help Sinterklaas' action run by De Standaard Soc. for the charity "Werken voor het Sinterklaasfeest der behoeftige kinderen" which would for years help children in need, focusing a lot on helping out disabled children from 1967 onwards. Many comic artists would contribute in the years to follow including Marc Sleen, Willy Vandersteen, Paul Geerts, Karel Biddeloo and so on. But I always wondered whether there were some other drawings by De Moor for that charity due to the date the cartoon was published (there was still time before the actual 6th of December, the day when Saint Nicholas actually visits the children).
A few weeks ago Peter Van Hooydonck informed that he had found some more of these drawings, namely in issues of the daily Het Nieuws van den Dag. The ones he found were dated November 23 and November 26/27 1960.
The one from November 23 1960 shows a father and mother looking at a destroyed (exploded) chimney and roof saying: "De Sint moest toch geen tanks brengen voor onze Jan!" (Dutch for: "The Saint was not supposed to bring tanks for Jan!").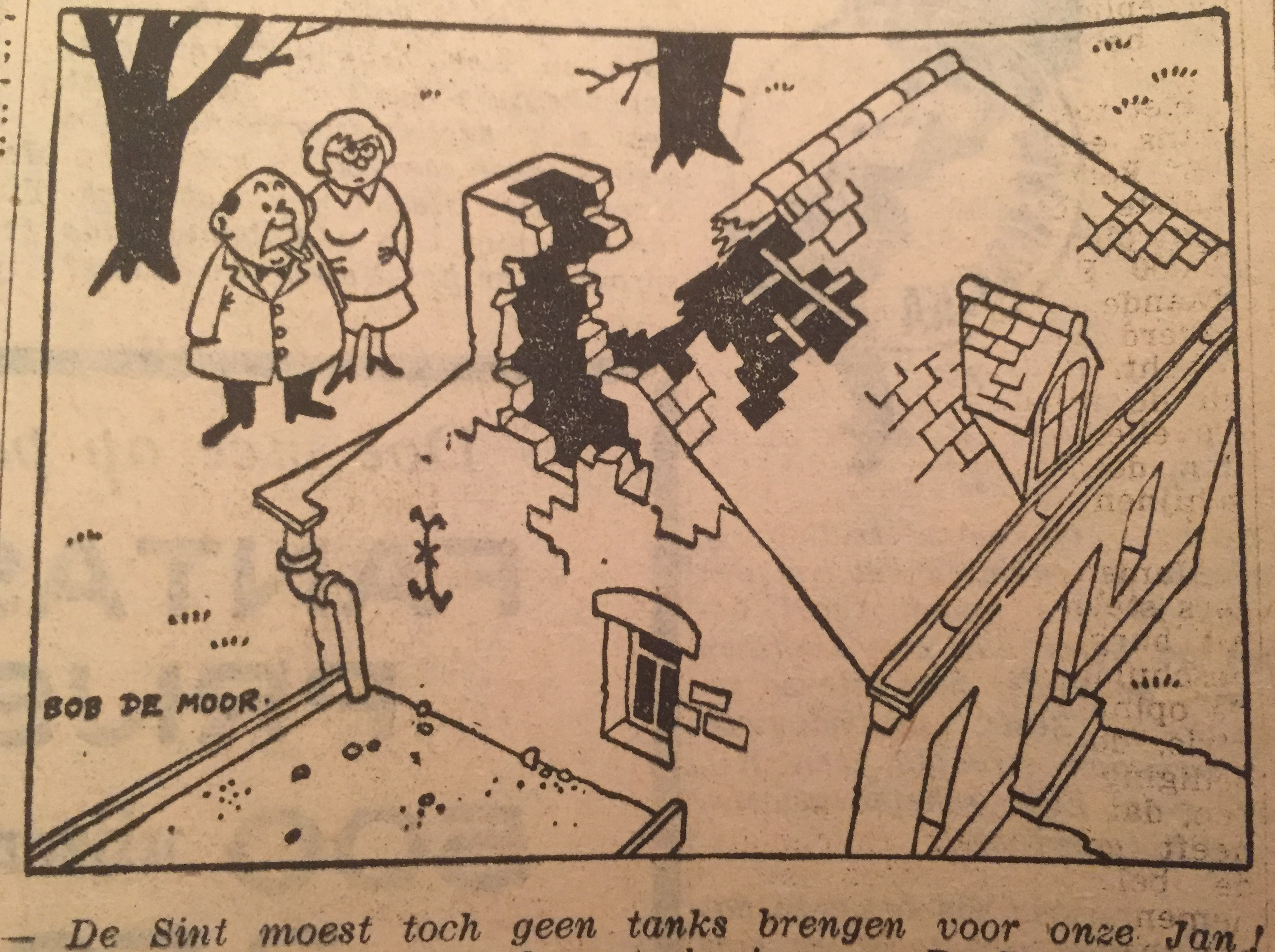 The second drawing, from the weekend newspaper of November 26/27 1960, shows an angel ready to push the button to launch a rocket (filled with presents) shaped in the form of Saint Nicholas' miter. Notice that the legs of the rocket are clearly inspired by the rocket from the "Destination Moon"/"Explorers on the Moon" Tintin albums.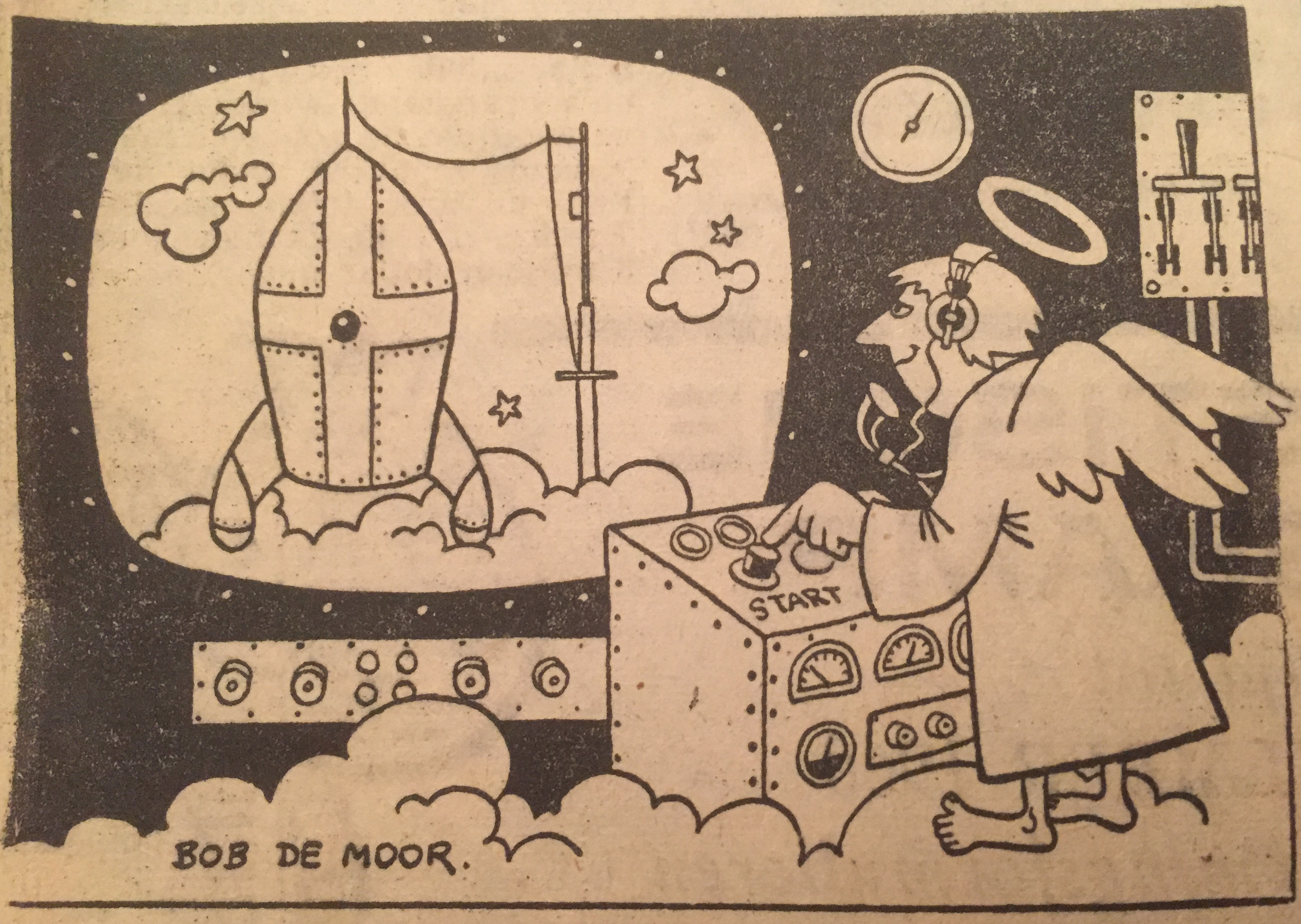 Below is the drawing we could find in Het Nieuws van den Dag of 2 November 1960.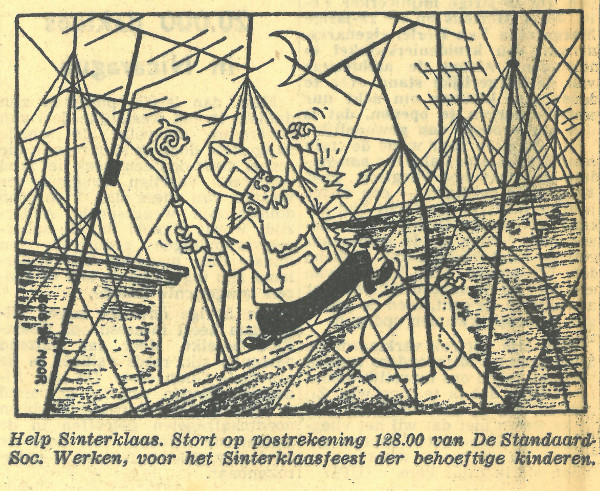 Thanks to Peter Van Hooydonck for the great detective work!