"De Leeuw van Vlaanderen", probably one of the best known (and appreciated) album ever created by Bob De Moor has seen several reeditions overtime since it's creation almost 70 years ago. Bob De moor always took care of the cover artwork which changed with almost every edition.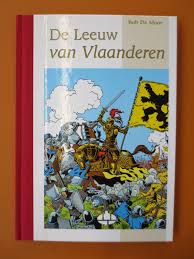 However, when in 2002 the BCB (Belgisch Centrum van het Beeldverhaal) and the Belgian Post released a brand new pocket edition of the album, many thought that the coverartwork had been taken from the 1952 version as edited by the Standaard. However, if you look really close you can see that it bares some details which you'd never find with Bob De Moor but rather with the work created by his son Johan De Moor.
When I first bought the album it was the first thing I noticed when scrutinizing the drawing. This had to be Johan. And that is precisely what has happened. For the occasion Johan De Moor recreated the 1952 coverartwork.
We found the original black and white drawing of that cover and although we only were allowed to use the picture the owner took (which is cropped unfortunately), you can distinguish some elements that show this is Johan De Moor at work. It most of all definitely shows the more 'freeway style' which Johan De Moor uses, the best example being the body of the fallen soldier (and especially his hands) where Johan De Moor decided to let his style take over instead of following the clear lines which his father set out for this drawing.
You can judge for yourself below: The original drawing versus the version by Johan De Moor.