In March we reported about quite a rare item that was (and still is) being sold on eBay for the ridiculous sum of € 55: a promotional poster in French, commissioned by the Citroën Garage Royen in Woluwe, Belgium. Although we didn't succeed in convincing the owner to have the original drawing scanned, we did manage to lay our hands on the very last poster that he had. Since only 300 were made, having one is already quite a miracle on its own.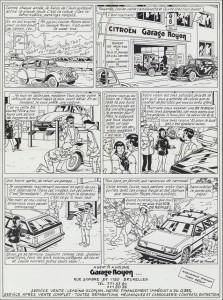 Truth be told, the poster was in quite a deplorable state; it was close to falling apart. Since we couldn't scan the original drawing and this poster was the only source we could work on, it was a matter of urgency to have it scanned properly. Thanks to the help of the people at the Centre Belge de la Bande Dessinée we were able to take a proper scan of the document and keep it safe for the future (and you).
But let's take a closer look at the poster. The first thing you will notice is that it lacks any time indication. We asked mister Royen if he had an idea when the drawing had been commissioned but he couldn't remember exactly, just that 'it was a long time ago'. Not really helpful, of course, so we needed some other elements. Sure thing is that it was made between 1984 and 1992 since the BX 19 which is featured in this one page story was produced by the French manufacturer Citroën from 1984 to 1994. Since Bob De Moor died in 1992, it can't be made after 1992. But one detail which mister Royen told us – and which seemed just a little meaningless detail at first – made suddenly sense.  For privacy reasons we can't reveal what that little detail is, but if our presumption is right it seems to point in the direction of the year 1986 (or early 1987), but certainly not earlier. In the next weeks we will try to confirm that date frame for sure.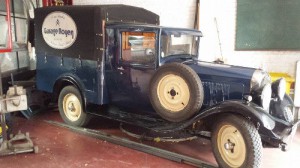 Secondly, you'll notice that it's a Citroën-related advert and that should set off an alarm because Bob De Moor has been doing quite a lot of publicity drawings for Citroën (you can read about this here, here and here and more in the near future), which means he was quite familiar with the brand and the cars. The page features various Citroën cars, new(er) and old, including the old Citroën van (apparently a Citroën FWD) which in reality still stands in the Royen garage nowadays, as you can see on the left. You will also recognize the 2CV in which "Lou and Louise" arrive, the DS, and the BX 19 Break GTI.
Mister Royen is also on the page; he's the person with the moustache selling the car to the couple (Lou and Louise).
Although the story isn't that sexy, it's about selling cars and insurances and after all, the work is quite well executed by De Moor. Note, though, that for De Moor (and for any comic author at that time) it was no longer common to also have to write the promotional slogans on the drawings. In this case he also took care of adding the USP's of Garage Royen (and that included the whole range of financial/after sales products and services related to car sales). All in all a very atypical work for Bob De Moor, but you can assume that this is related to the specific request of mister Royen.
When we get more info we'll update the story.