In the easter 1946 edition of KZV aka Kleine Zondagsvriend, Bob De Moor illustrated a story called "De duivel uit den hollen boomstronk" (The devil from the hollow tree stump) in the 'Professor Goudzoeker vertelt' series. The illustration – a splendid one – was one of many Bob De Moor would make for KZV for all kind of standalone stories for which he only took care of the illustrations and not of the text itself.
We have been diving into our own archives to showcase you some of these illustrations. Today is the first one. It's also the first time since 1946 that the illustration which we show you today sees the light of day again, and the very first time it's being published on the internet too.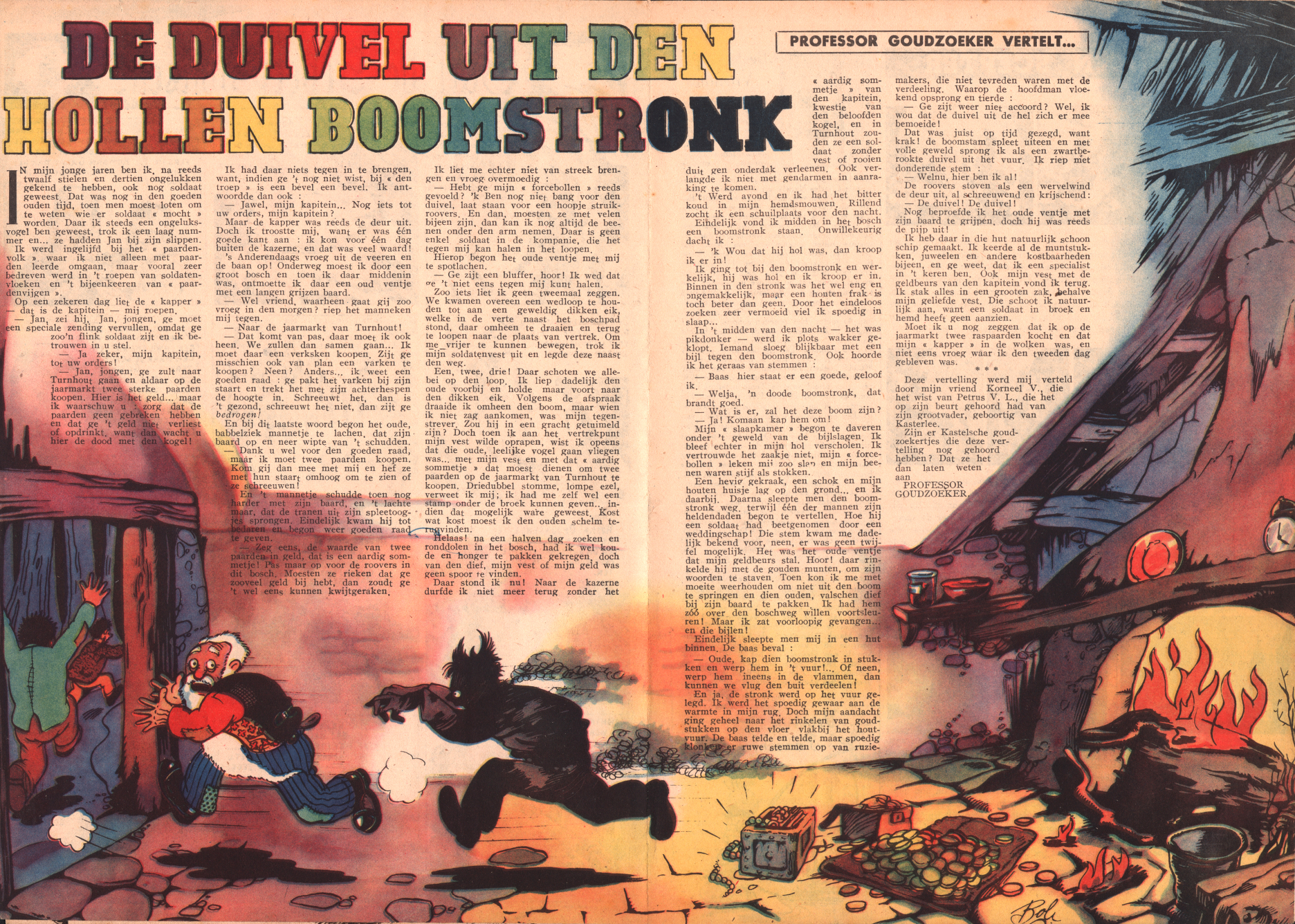 The story itself is written in Dutch (albeit in a post-WW2 version with a slightly different spelling and a somewhat obsolete way of writing). The plot is the following: a soldier is asked to buy 2 horses in Turnhout (that's near Antwerp). During his journey to Turnhout he gets robbed by an old man. After desperately trying to find the robber for hours and hours, he falls asleep inside a hollow tree stump, which gets axed by a band of bandits including the old robber. When the bandits fall out with each other, one of them calls for the devil. The soldier jumps out of the tree stump which is already set on fire after which he collects the money plus lots more which the bandits had stashed away.
The illustration Bob De Moor made (and signed as 'Bob') shows this last scene. You can clearly see that the way of drawing instantly reminds of the style used by Walt Disney (which you can also find back in the album "Le Mystère du vieux chateau fort" released in 1947 via Campéador). Several elements also can be traced back to Bob De Moor: the shoes, the way the floor is drawn, both elements which we find back in the series Hobbel & Sobbel and Bart De Scheepsjongen which De Moor was drawing during that same period. The vivid colouring is pretty astonishing and was one of the key ingredients of KZV back in those days.
The original drawing probably went lost as is the case with many of the drawings De Moor made during that time.