On August 4 you could already read how Bob De Moor was asked to help out the Vandersteen heirs when in 1991 a republication of the Tijl Uilenspiegel story "Opstand der Geuzen" via the Standaard Uitgeverij was imminent. As we explained in that article De Moor's help was needed because the Vandersteen Studios could no longer locate the original drawings of the pages 39 and 40 and also lost the artwork of the cover. Bob De Moor redrew both pages plus the cover artwork.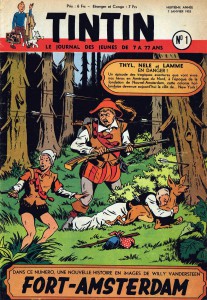 Today we continue with Bob De Moor's involvement in Willy Vandersteen's Tijl Uilenspiegel, but this time way back in time. It's the year 1953 and after the success of the first story, "Opstand der Geuzen", Tintin publisher Raymond Leblanc asks Vandersteen to create a follow-up story. Small detail, initially artistic director Hergé was against publishing this second chapter. But nevertheless two weeks after the final page was published of "Opstand der Geuzen", a new story started, "Fort Oranje".
But unlike Bob De Moor who by then enjoyed his job at the Hergé Studio (despite still continuing the daily comic Snoe & Snolleke for the daily newspaper De Nieuwe Gids for instance), Vandersteen was still undergoing the deadly daily publishing deadline for the De Standaard/Het Nieuwsblad newspapers in which he published Spike and Suzy ("De tamtamkloppers", "De knokkersburcht", "Het geheim van de gladiatoren", "De circusbaron", …). On top of that came his weekly Spike and Suzy pages for the Tintin weekly ("Goud voor Rome" / "Le Gladiateur – mystère"). So it doesn't take rocket science to see that such a publication rhythm was simply a bit too much, even for Willy 'Speedy Gonzales' Vandersteen. Some helping hands were needed.
He asked 2 Belgians working at the Tintin weekly for help: his friend and colleague Bob De Moor and french speaking Tibet (Rik Ringers, Chick Bill). Both accepted. We know for sure that Bob De Moor inked the cover of "Fort Oranje" (the one from the Tintin weekly because the album cover as you know it was created in 1955 and Bob De Moor was not involved in the creation of that one). We write 'inked' because it is often said on fora etc. that De Moor has also drawn the cover, which is not true. Besides inking the cover he also helped on the decors for that same album. It's close to impossible to trace back who did what in that album, so we will leave it up to your imagination. But make sure to check the way the trees, bushes and plants have been drawn and compare these to the plants you can find in for instance the first Cori album (Ciso 18). You'll notice quite some similarities. And since the story has quite a lot of ships featured it's not unthinkable that Bob De Moor also worked on those too.
It's being said here and there that Karel Verschuere also collaborated on this album. However Ronald Grossey's Willy Vandersteen biography "Studio Vandersteen – Kroniek van een legende 1947-1990" only names Bob De Moor and Tibet as having worked on this second Tijl Uilenspiegel album. Since all protagonists are dead, we will never know for sure of course.