A few days ago we announced the imminent publication in album format (for the very first time) of the 1948 story "Dat wondere pimpeltje" for which the script was written by Jozef Van Overstraeten based on his book with the same title from 1946.
We took the opportunity to catch up with Johan De Moor as he delivered the cover for the album.
What does he think of the story itself? Johan: "The script is heavily literary, it wasn't really suited for a comic, but my dad did his best to turn it into a visually very interesting experience."
For Johan it was actually a complete fresh discovery: "I honestly didn't know the story or the drawings, I literally discovered it with this first album edition via the Collectie Fenix series."
As you could already notice in this article, the style is reminiscent of that used for the "Le Mystère du vieux château fort" from 1947. Johan: "You clearly see the Disney influence and that of the Afim animations studios where he started to work following his studies at the Antwerp Academy of Fine Arts."
Below we give you the pencil and colour preparation drawings which Johan made.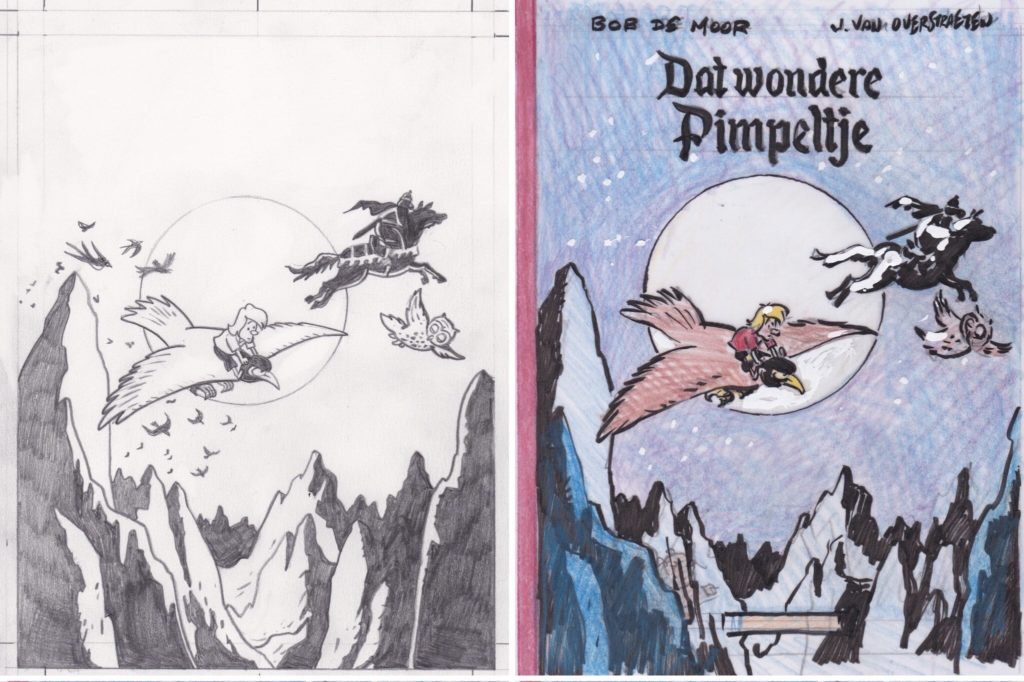 Johan: "I'm quite pleased with the result, it has this magical aura around it with the moon, in French we'd say 'un ombre d'or', it has something classic. Add to this the flying king on his horse, the owls. Yes, it has some Kasper resemblance, which is no coincidence, the main figure was also a bit like Kasper, blond, with a red shirt."
It won't be the last cover Johan will be working on as there is for instance a first album publication of Inspecteur Marks in the pipeline. Johan: "My dad didn't really talk a lot about that period of Inspecteur Marks, he talked a lot more about 'Le Mystère du vieux château fort' for instance. These older stories almost all got lost until some were again picked up thanks to people like Danny de Laet who picked up a lot of these older stories in the late seventies, early eighties. He literally went looking in old boxes to dig up all this long forgotten work. You know, it shows that there was a life next to the Hergé Studios, something a lot of people don't always realize."
Last year also saw the publication of "Professor Jonas – De slaapmachine" via the Vlaams Stripcentrum on 700 copies. It's an old story from 1949 which was published in 't Kapoentje. The cover artwork was assembled using existing material. But we'll talk a bit more about that album and particular story in the future.