On March 5th we published an article on a cartoon 'Salon van de Vlaamse Humor' by Bob De Moor which was published in postcard format in 1980. We also said in that article that it was highly doubtful that the cartoon had been made that same year, but instead probably in the early 60s. That seems to be correct like new information sent by Yves Kerremans shows.
That info indicates that the cartoon was already included in the 1971 publication "Beknopt Verslach een overzicht van 20 jaar Salon van de Vlaamse Humor", which was part of a series by the VTB (Vlaamse Toeristische Bibliotheek). The small book, with a cover by Pil, includes a couple of illustrations (Marc Sleen, Bob De Moor, Pil and Jef Nys) next to a text about the actual salon plus a table showing the participants of the 9 editions of the Salon which took place between 1952 and 1971. From that table results that Bob De Moor participated in the first 5 editions: 1952, 1954, 1959, 1961 en 1963.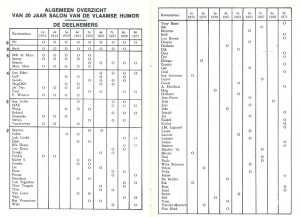 The small book includes 2 drawings by Bob De Moor, the actual drawing we already showed (page 8) and also a drawing (made in 1961) representing Mark Liebrecht and Bob Van Bael (page 10). We'll get back to this particular 2nd drawing in a later article as we also found that same drawing in a 1961 issue of 'De Autotoerist'.
Sure thing is that the cartoon 'Salon van de Vlaamse Humor' was – as we already thought – not made in 1980 but way before, our guess: 1961 or 1963. We are also trying to trace back the other drawings Bob De Moor made for the Salon.