Update: Also Editions Le Lombard have no clue what the card was used for.
In 1987 the Lombard publishing house would release a postcard featuring Barelli, Anne Nannah and what seems to be 4 other colleagues in an office. On the back of the card we can see 'Copyright by Lombard 1987 De Moor' plus the phrase "Pour ta promotion, sincères félicitations". The card comes from the archives of Olivier Marin. But that's not the only reason why we present you this card today. We actually found back the counterpart (the sketch that is) in the archives of the family De Moor, which kinda gives you a very good idea what the early beginning of this postcard looks like.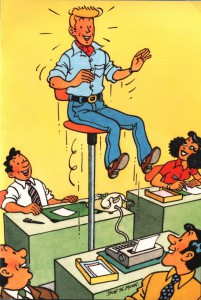 We tried to obtain some information on this postcard and especially for which particular occasion this postcard had been created or commissioned. We talked to Yves Sente, who referred us to André-Paul Duchâteau (Belgian comics writer and mystery novelist who worked with Tibet on Ric Hochet). Unfortunately André-Paul Duchâteau couldn't recall for what the postcard had originally been created but he thought that it could have been for the promotion of Bob De Moor himself that year as artistic director at Lombard. However, that only happened in 1989.
It's our guess that the card was used throughout the company, but if anyone knows a bit more on this, please contact us.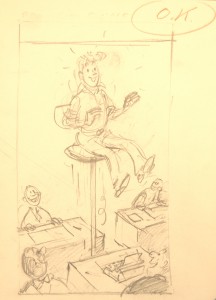 Let's check the sketch Bob De Moor made. He didn't change a lot compared to his first sketch (which was OK'd as you can in the upper left corner. The only difference is actually that Anne Nannah wasn't in the first sketch or at least he had not yet chosen her to be the character on the right of Barelli.
This is a nice example of what various archives can deliver. We'll continue to match various archives to present your further examples.