While visiting fellow Bob De Moor admirer Jean-Luc Bostyn last week, I noticed the 1985 calendar of Het Stripschap in his collection. I don't have that item in my collection so I asked if I could have a look to see what Bob De Moor content it held. And behold, the February page holds an FM rock/metal/eighties (fluo we imagine) dressed Barelli.
Small detail, Barelli is chained to the wall as if Bob De Moor wanted to indicate he would never let this Barelli incarnation go loose.
As far as music goes, we guess it must have been something between Europe and Jon Bon Jovi. Visually Duran Duran comes to mind as Simon Le Bon was also sporting a bandana back in the good old days, just like Mark Knopfler (Dire Straits) did and there are of course the FM Rock leggings.
The 29.70 x 21.00 cm calendar was released in 1984 by Het Stripschap in an uncolored version.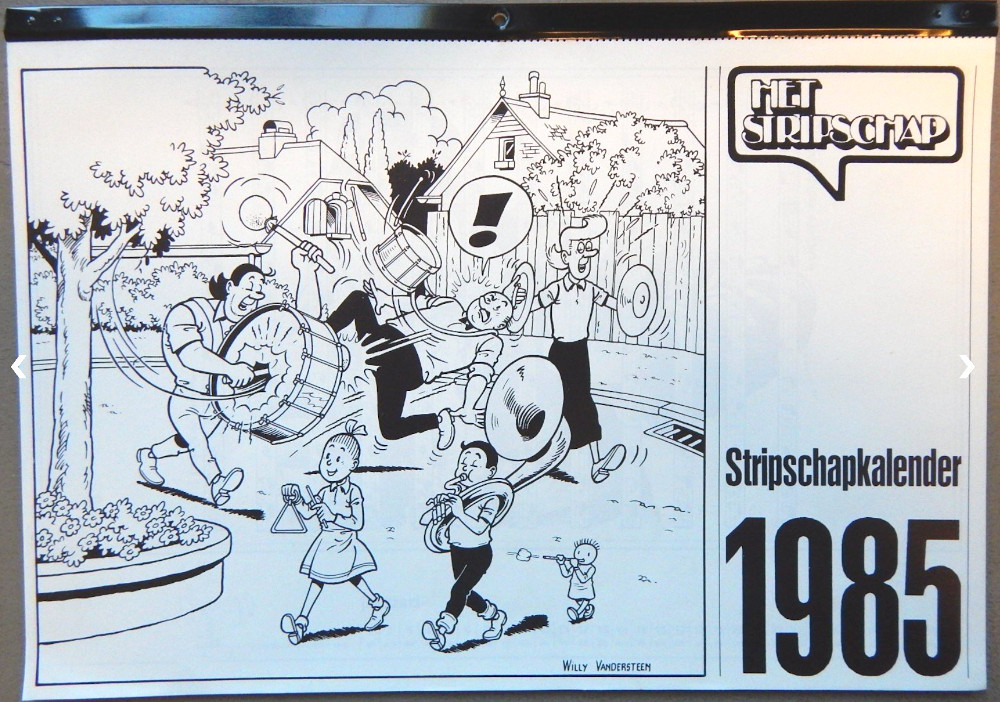 Bob De Moor is not the only artist who contributed to this particular edition. We also find contributions by Henk Albers (Henkie Denkie, Henri Albers, Jerry Milton…), Frank Bierkens, Bert Bus (Max Mutesius), Gilbert Declercq (Gidecq, G. D.), Jan van Haasteren (Jean Pion, Dick Draw, Harold Hurry, Tojo), Eddie de Jong, Roger de Klerk (RDK, R.D.K.), Hanco Kolk, Minck Oosterveer, Willem Ritstier, Studio Vandersteen, Ben Verhagen (Bever, Rob), Willem Vleeschouwer (Wévé) en René Windig.