In 1988 Guy Delcourt Productions released the album "Les Belles Histoires d'Onc' Renaud Volume 2 – Le retour de la bande à Renaud". The album, just like the 1st volume from 1986, was a comic tribute to Renaud Pierre Manuel Séchan, known as Renaud, a popular French singer, songwriter and actor. Before you say 'Who?', know that with the exception of a recording of "Miss Maggie" in English and a 'franglais' recording of "It is not because you are", his work is almost unknown outside the French-speaking world.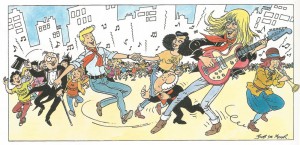 The participating comic authors for this 2nd volume were Arno & Bocquet, Arno & Bocquet, Boucq, Cabanes, Bob De Moor, Philippe Berthet & Dominique David, Jean-Claude Denis, Geerts Jano, Liberatore Lidwine, Loisel & Miltidjan, Plessix & Dieter, Ptiluc, Tome et Janry, Tripp, Tronchet, Ben Radis and Uderzo (who made the cover artwork for this 2nd volume).
10 of these artists chose to go for a comic story approach based on a song by Renaud while Bob De Moor went for an illustration instead just like Lidwine, Jano, Tripp, Boucq, Ben Radis and Liberatore. De Moor's illustration was put on the last page holding the publication info.
You'll notice that Bob De Moor went for a Pied Piper of Hamelin (aka the Rat-Catcher of Hamelin) approach with Cori acting as the Pied Piper of Hamelin and Renaud as his aid on guitar. In the young public lured by their music you'll also discover Barelli dancing with Anne Nannah, Balthazar doing his usual 'dance' move and Monsieur Tric in a rather not so typical posture (watch the legs) and costume (Fred Astaire comes to mind).
On the t-shirt of Anne Nannah and 3 of the kids Bob De Moor added the titles of 4 songs by Renaud: "Jonathan" (actually a song dedicated to Johnny Clegg), "Miss Maggie", "Ma Gonzesse" and "Marche à l'ombre" (an album dedicated to the french criminal Paul Toul).
Bob De Moor often listened to French 'variété' aka music hall music and it's not unthinkable that Renaud was part of his personal selection. Also the following names probably were part of this: Michel Berger, France Gall, Bernard Lavilliers, Véronique Sanson, Gérard Lenorman, Michel Jonasz, Alain Souchon, Francis Cabrel, William Sheller, Yvan Dautin, Pierre Bachelet, Francis Lalanne,Jacques Higelin, Hubert-Félix Thiéfaine, Téléphone etc..
Unlike most of the other Bob De Moor illustration, you can still find this one at a very moderate price right here on Amazon France
. The album holds both sold out volumes and is more than worth getting.