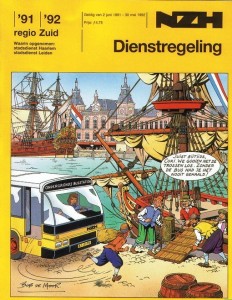 In 1991 the Dutch transport company NHZ (formerly known as NZHSTM or Noord-Zuid-Hollandsche Stoomtramweg-Maatschappij and since 1999 known as Connexxion) published its yearly bus timetable. The cover of that publication had since 1983 been created by a famous comic authors. In 1983 for instance it was Joost Swarte who would draw the first one. In 1990 Bob De Moor was invited to create the one to be used for 1991-1992.
The cover Bob De Moor made centers around Cori who is late and needs to get on time to embark on a boat for a new voyage. Of course the NHZ bus brings him right on time, hence why the text balloon of Harm awaiting Cori reads: "Juist bijtijds Cori. We gooien net de trossen los. Zonder de bus had je het niet gehaald!" which roughly translates as "Cori, you are just in time! We were just about to cast off. Without the bus you would not have made it on time!".
The bus and the decor were not drawn by Bob De Moor's assistant Geert De Sutter (he confirmed this today) but by Bob De Moor. Truth to be told, the out of time appearance of the bus looks a bit odd, and one could wonder why Bob De Moor chose to use Cori instead of a more contemporary character such as Barelli. Then again, Cori worked for the 'Vereenigde Oostindische Compagnie' (VOC), the Dutch East India Company. The latter was a chartered company established in 1602, when the States General of the Netherlands granted it a 21-year monopoly to carry out colonial activities in Asia. With the NHZ being a Dutch company it kinda makes sense.
Note that also Willy Vandersteen would put a bus on his cover filled with 15th century Spanish soldiers attacking Hannes and Tamme and this 2 years before the Bob De Moor cover, namely in the timetable for 1989-1990. Hans G. Kresse from his side was the first to do this and placed a bus in the same drawing as Eric The Viking for his 1988-1989 cover. Maurice de Bevere (Morris) would have Lucky Luke taking the bus to Comic City in the 1992-1993 edition.
Other covers were created by Henk Kuijpers, Piet Wijn (Douwe Dabbert), François Walthéry (Natasja), Frans Piët (Sjors en Sjimmie), Willy Vandersteen (De Geuzen), Raymond Macherot (Chlorophyl), Hans G. Kresse (Eric de Noorman), Peter de Smet (De Generaal), etc..