Bob De Moor has created quite a lot of birth cards over the years. Legendary for instance are those he created when his children Dirk, Chris, Johan, Annemie and Stefaan were born, some of these were published in the Bourdil-Tordeur book "Bob de Moor. 40 ans de bande dessineée, 35 ans au côtés d'Hergé". But Bob De Moor also made sure than the birth of his grandchildren didn't go unnoticed either, also graphically speaking that is.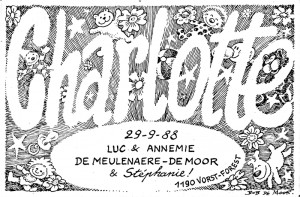 This morning Luc De Meulenaere provided us with the birth cards Bob De Moor created for Stéphanie (1986), Charlotte (1988) and Valentin (1989) De Meulenaere, the children he has with Annemie De Moor, daughter of Bob De Moor. 2 of the cards show a more cartoon like approach with a jumping baby (that of Stéphanie and Valentin), while he went for a more graphically different approach for the birth card of Charlotte, which you can see on the left. A style that immediately rang a bell as the approach reminds a lot of the drawings he made for the Jacques Brel book "Le Plat Pays – Les Prénoms" published in… 1988, the same year Charlotte De Meulenaere was born. In other words Charlotte's card was made around the same time he worked on the Jacques Brel drawings of which we will publish some details later on.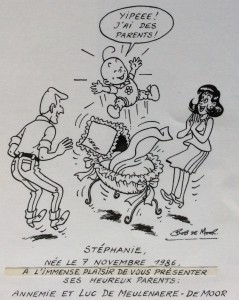 The birth card of Stéphanie De Meulenaere has a twist in the text which we don't often see when it comes to birth cards. Instead of the parents presenting their baby, the text has Stéphanie presenting her happy parents. The baby Stéphanie also yells "Yipee! I have parents!" which corresponds with the phrasing used below. The drawing you see on the left is the original as used for printing the birth cards. It's one of those cards you don't throw away of course!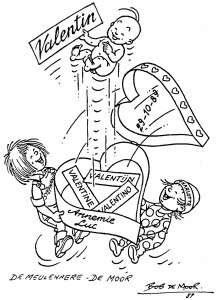 The birth card for Valentin De Meulenaere has a typical joke from Bob De Moor in it. It looks like it that Valentin had the choice between the names Valentino, Valentijn or Valentine too. Holding the heart shaped box or Valentin's elder sisters Stéphanie (almost 3 years old by then) and Charlotte (1 year old). A drawing which puts the children at the centre of the happiness.
Note that for privacy reasons we have erased the street and house number from the scans.
Thanks to Annemie and Luc for the scans!